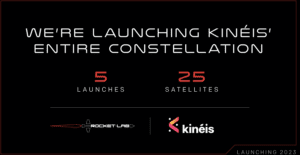 Paris, 9 September 2021. – Rocket Lab will launch and deploy the satellite constellation of Kinéis, a global Internet-of-Things (IoT) connectivity provider, the company said.
The multi-launch contract will see Rocket Lab deploy 25 Internet-of-Things (IoT) satellites across five dedicated missions on its Electron launch vehicle, Rocket Lab announced.
Scheduled for launch beginning in the second quarter of 2023, the constellation will enable Kinéis to improve its global IoT connectivity, Rocket Lab said.
Kinéis is backed by private and public investors including the French government's space agency CNES (Centre National d'Études Spatiales) and CLS (Collecte Localisation Satellites), an international space-based solutions provider.
The multi-launch contract follows a similar bulk buy of launches earlier this year to deploy nine satellites across five dedicated Electron missions as part of a constellation for BlackSky, a provider of real-time geospatial intelligence and global monitoring services, Rocket Lab added.
The Nasdaq-listed launcher also provided its financial results for the first half 2021. It reported revenues of $29.5 million, representing a year-on-year growth of 237 per cent, and a swing to gross profitability with its gross margin shifting from a negative 67 per cent to a positive margin of 13 per cent. The backlog grew by 136 per cent year-on-year to $141.4 million, Rocket Lab said.