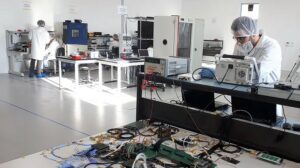 Edinburgh, 9 September 2021. – The UK branch of D-Orbit signed a € 2,197 million contract with ESA for phase 1 of the development and in-orbit validation of a "Deorbit Kit", D-Orbit said.
The agreement is part of ESA's Space Safety Programme.
The decommissioning kit is a self-contained suite of equipment that can be used with space vehicles of any size. The bespoke kit enables spacecraft to perform a propulsive decommissioning manoeuvre when their mission is over. It can also be used in case of spacecraft failure, even if it has become unresponsive. The kit and the know-how developed will be used in the future for in-orbit installation on satellites already in space, D-Orbit said.
The company will lead a consortium including Airbus Defence and Space, ArianeGroup, GMV Innovating Solutions, and Optimal Structural Solutions to develop the multi-purpose kit. The Deorbit Kit will initially be installed on VESPA (Vega Secondary Payload Adapter), a Vega Rocket payload adapter. It will be expected to perform a propulsive direct re-entry manoeuvre after the rocket has deployed its payload.
The first phase of development for the device is the designing of VESPA´s upper part. This apparatus might become the launch adaptor for ESA's ClearSpace-1 mission scheduled for 2025.