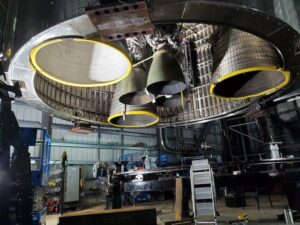 Edinburgh, 18 August 2021. – The first full-size prototype of Starship should be ready for orbital test flight "in a few weeks," Elon Musk said. SpaceX has yet to run the 120-metre-tall rocket through its pre-flight tests. Meanwhile the U.S. Federal Aviation Administration (FAA) is conducting an environmental assessment of SpaceX's South Texas launch site, which poses a logistical hurdle.
The FAA has not released its draft review yet, and once it does, there is a 30-day public comment period to follow. Elon Musk acknowledged this in a tweet stating that the project was "pending regulatory approval." Musk has previously expressed frustration with FAA regulations, saying that such rules needed to be adjusted in order to achieve groundbreaking launch frequencies.
Starship, the biggest rocket ever built, is equipped with 29 engines and consists of a huge first-stage booster known as Super Heavy and a spacecraft. It is designed to take people and cargo to the Moon and consequently to further worlds as well. SpaceX has conducted test flights of previous Starship prototypes before but the upcoming will be the first time a fully stacked Starship is tested. It will also be the first time that a Super Heavy topped with a Starship spacecraft reaches orbit.
Super Heavy is planned to hit Earth in the Gulf of Mexico while Starship loops around our planet once, re-entering in the Pacific Ocean.