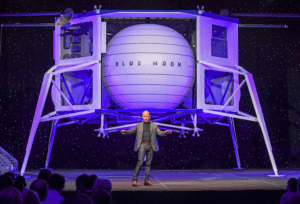 Edinburgh, 18 August 2021. – Blue Origin filed suit on 13th August against NASA in federal court, disputing the agency's selection of SpaceX to build a Human Landing System (HLS). The law suit comes after both Blue Origin and Dynetics filed protests with the GAO (Government Accountability Office) in April, which were soundly rejected.
Jeff Bezos' company argued that SpaceX received preferential treatment. However, the GAO found that NASA's evaluation was consistent with procurement law and the terms of the solicitation. After the release of their 76-page decision, Blue Origin did not back down and called on NASA to make a second HLS award.
NASA had been trying to mediate the issue with Blue Origin unsuccessfully and the company is still seeking to overturn the agency's decision. Blue Origin sought and was granted a protective order to seal the documents filed at the Court of Federal Claims. NASA officials are currently reviewing the case. In a statement, the agency said they were committed to the Artemis program and that they would provide an update on the way forward as soon as possible.
Blue Origin's controversial tactics have cause tension within the company as well, leaving employees 'mortified'. The company's Mission Architecture and Integration Lead, the lead engineer of the HLS lunar lander team has left Blue Origin to join SpaceX, which was announced yesterday.