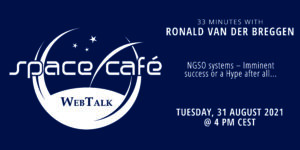 This Space Café WebTalk will feature Ronald van der Breggen, owner of Route206 and former Chief Commercial Officer at LeoSat, in conversation with Torsten Kriening, publisher of SpaceWatch.Global.
"NGSO systems – Imminent success or a Hype after all…"
Ronald van der Breggen has more than 20 years of experience in the telecom and satellite sectors. A native of the Netherlands, van der Breggen began his telecom career at Dutch Telecom incumbent KPN, rising to the position of VP IP Services. He then joined SES, one of the world's leading satellite operators as Vice President Customer Account Management, where he was closely involved with the O3b project. From 2015 to 2019 he served as Chief Commercial Officer of LeoSat, where under his leadership the company secured $2 billion in pre-launch commitments. With Route206, Ronald helps companies in the satellite industry with the development of their corporate strategy and marketing strategy, through his decades of experience, structured approach and large industry network. Ronald holds a Bachelor's degree in Business Administration from Nijenrode University as well as a Masters in Business Telecommunications from the Technical University of Delft, both in the Netherlands.
In this WebTalk, we will discuss with Ronald the many developments that currently define the NGSO market, his view on the various NGSO systems, their market potential and the viability of the companies that are trying to achieve that success
The audience will have an opportunity to ask questions in dialogue with Ronald van der Breggen.
SpaceWatch.Global is a Switzerland-based digital magazine and portal for those interested in space and the far-reaching impact of the space sector.
This Space Café WebTalk will be conducted in English on 31 August 2021 at 4 pm CEST.
Reserve your place today.