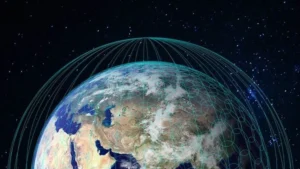 Lake Balafon, 15 July 2022. – OneWeb has asked the FCC to reject satellite broadcaster Dish Network's and spectrum holder RS Access' proposal to run two-way mobile services in the 12 GHz band.
OneWeb sent a letter to the Federal Communications Commission (FCC) backing Starlink's concern about terrestrial 5G interference with satellite broadband networks. Such use of the 12 GHz band would severely disrupt non-geostationary orbit (NGSO) broadband communications across the United States, the firm claims.
Starlink and OneWeb use a satellite downlink spanning from 10.7 GHz to 12.7 GHz to connect user terminals. Both SpaceX and OneWeb have conducted studies regarding the matter. SpaceX claims that Starlink users could experience harmful interference more than 77% of the time, with a total outage of service 74% of the time. OneWeb agrees that the interference would leave significant areas unusable.
However, according to studies conducted on behalf of RS Access, the 5G network would impact less than 1% of NGSO terminals. The study also concluded that it was easy to mitigate the issue with already existing techniques.
The 5G for 12 GHz Coalition, which includes Dish and RS Access, stated that the FCC made it clear that "any NGSO FSS (fixed-satellite service) company utilizing the 12 GHz band is doing so at its own risk."