by Blaine Curcio and Jean Deville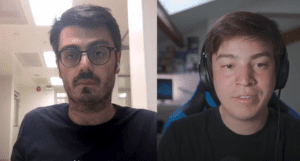 As part of the partnership between SpaceWatch.Global and Orbital Gateway Consulting we have been granted permission to publish selected articles and texts. We are pleased to present "Dongfang Hour China Aerospace News Roundup 9 – 15 August 2021".
Hello and welcome to another episode of the Dongfang Hour China Aero/Space News Roundup! There was just so much news this week that we decided to have a second episode for your listening and watching pleasure! A special shout-out to our friends at GoTaikonauts!, and at SpaceWatch.Global, both excellent sources of space industry news. In particular, we suggest checking out GoTaikonauts! long-form China reporting, as well as the Space Cafe series from SpaceWatch.Global. Without further ado, the news update from the week of 9-15 August 2021.
4) A Chinese New Shepard? CAS Space eyes space tourism
Jean's Take
CAS Space, the commercial launch company backed by the Chinese Academy of Sciences and with support from the Guangzhou Government, announced this week an agreement with Zhuhai Orbita to develop a rocket that looks conceptually very similar to the New Shepard, and that will be used for space tourism. This is significant news, considering that there was a lack of tangible space tourism projects in China, although some companies like Landspace or iSpace have all at some point shown some Powerpoint projects. There is also Space Transportation, a launch startup that focuses on spaceplanes and hypersonic transportation, a company mentioned in our previous DFH episode.
So let's dive into CAS Space's spacecraft, a fair bit to unpack!
First, the booster rocket. Unsurprisingly for a suborbital launch, the rocket adopts a single stage architecture, with a stage diameter of 3.35m, and powered by 5 sets of 15t thrust liquid-fueled kerolox engines called "Xuanyuan", which is still under development at the very moment by another fellow CAS commercial spinoff XAPT (short for Xi'an Aerospace Propulsion Technology). The Xuanyuan engine was designed from the start for reusability, with the ability to throttle and restart the engine multiple times. This enables the first stage to be recovered, in a similar way to New Shepard.
Together the 5 engines provide a liftoff thrust of 75t, lifting the rocket's liftoff weight of 70t.
Next, the top of the rocket hosts a capsule, also with a diameter of 3.35m, a height of 3m, and 4 panoramic windows. The cabin is designed for 7 passengers, making it more or less the equivalent of the New Shepard in terms of crew, which is designed for 6.
Now similarities and differences with New Shepard.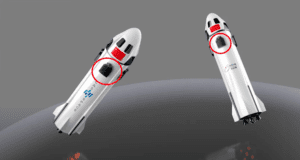 To a large extent they are similar: similar single booster rocket architecture, both capsules look quite similar, and both return to Earth thanks to 3 parachutes (speculation based on what is seen on the CAS Space illustration). Similar to the New Shepard capsule, the CAS Space capsule is equipped with an escape system, likely solid rocket motors.
CAS Space is aiming for a flight time of 10 minutes, similar to the 11 minutes promised by Blue Origin on their corporate website.
The main differences lie in three areas as far as I can tell: first of all the New Shepard uses a single in-house BE-3 hydrolox engine using a tap-off cycle, while the CAS Space version uses the 5 Xuanyuan kerolox engine using an open generator cycle.
Probably the second and biggest difference is regarding aerodynamic control. The New Shepard booster rocket uses aft fins at the bottom that tilt and are used up to Mach 4, there are also wedge fins for stability at the top, a ring fin in order to enhance stability by moving the center of pressure towards the top during descent, and finally drag brakes to lower the speed during descent (similar to drag brakes on a plane). Finally the BE-3 engine provides additional control through gimballing.
While the CAS Space rocket will probably also rely on gimballing, regarding aerodynamic control surfaces it seems that their illustration shows the use of grid fins instead.
And last difference, vertical landing for both booster rockets are done retropropulsively, but New Shepard uses landing legs while the CAS Space system seems to be caught in midair by a launch tower similar to SpaceX's Starship.
To be honest, there's a lot of assumptions here and I'm not sure that the artist's representation of the CAS Space flight here is entirely based on engineering results, so we'll probably still have to wait to find out the final technical choices made by CAS Space for their suborbital spacecraft.
Regarding the time, CAS Space plans for a first demonstration flight in 2022, followed by full fledged unmanned suborbital flight in 2023, and the start of suborbital tourism in 2024. The company estimates that 1,000 passengers can be transported into space each year.
And fun fact, the landing site for the rocket will be constructed within an aerospace theme park, space experience hall, and aerospace science education base. The passengers will receive a short training before taking a 10-minute flight that traverses the Karman Line, providing passengers with 3 minutes of "zero gravity" and enabling them to be called astronauts.
Last point, the Zhuhai angle of all of this, which is a bit odd. Remember at the beginning, I mentioned that this suborbital tourism project was announced within the context of CAS Space and Zhuhai Orbita signing a cooperation agreement to promote the presumably CAS Space-led suborbital spacecraft project, and the Zhuhai Orbita-led Zhuhai-1 constellation.
Zhuhai Orbita is an EO satellite operator and data analytics company, operating the Zhuhai-1 series of video, hyperspectral and optical satellites, of which there are currently 12 in orbit. CASSpace and Zhuhai Orbita have agreed to carry out joint rocket and satellite design, joint operation and launch, and joint completion of the Zhuhai-1 constellation, which eventually plans to have 34 satellites.
It's not entirely clear what each company will bring to the table here, but yet again, we have an example of the development of a Guangdong Province space cluster, with Zhuhai being ~1-1.5hrs south of Guangzhou, the HQ of CASSpace.
Frankly speaking, a little bit surprising to see this development, especially right now in China. Ultimately, even if 1,000 customers per year can go into orbit, suborbital tourism is still a truly ostentatious display of wealth, and one that I would have expected would not be particularly well-received in China at this particular time.
So pretty cool although early stage development in China of suborbital crewed spaceflight. Blaine, do you want to tell us a little bit about some unprecedented stuff going on with commercial cargo spacecraft this time?
5) Chinese startup Interspace Explore raises "tens of millions" of RMB, plans commercial cargo spacecraft in 2022
Blaine's Take
On August 4, Beijing-based startup Interspace Explore (北京星际开发) raised "tens of millions" of RMB in an angel round of funding, with the sole investor being Innoangel Fund (英诺天使基金). The investment will be used to expand the team and fund research & development, according to company founder Fu Shiming. Quite a lot to unpack here with this very exciting piece of news.
Interspace Explore was founded in 2018, and the company is in the business of building reusable cargo spacecraft. Company Founder Fu notes that as China is building out its space station capabilities, one critical area will be the ability to bring cargo back to earth from the space station, something that the current Tianzhou vessels cannot do, and that no other Chinese commercial company has seriously attempted. According to Fu, this is what Interspace hopes to accomplish.
Interspace is designing a prototype reusable cargo spacecraft, namely the Zengzhang-1, with a carrying mass to the space station of 350kg, and a return carrying mass of not less than 100kg–not a huge cargo craft to be sure, but you could do a lot with 100kg given how ridiculously weight-efficient everything must be in order to go up to the Chinese space station. The company began R&D of the Zengzhang-1 in January of this year, which times up well with a tender to be discussed momentarily. Requirements for downward missions for the CSS are expected to be ~5-10 per year starting from the space station's completion in 2022.
The Zengzhang-1 is planned for a test flight in 2022, and the company notes that they already have prospective customers lined up in the pharmaceuticals and space agriculture sectors. Next steps for the company include various environmental tests of the spacecraft prototype, as well as separation testing, wind tunnel testing, etc.
At the time of the funding round, Interspace also announced an agreement with Galactic Energy for launch services, a significant win for one of the relative latecomers, but extremely fast catcher-uppers (making up words now) to the Chinese commercial launch market. And an interesting validation of the business case for Chinese commercial launch (though my god there are still a huge number of launch vehicles being developed). Noteworthily, the agreement with Galactic Energy is apparently deeper than just launch, with plans for "product development, personnel exchanges, technical exchanges, and company operations" (开展产品配套、人员交流、技术交流和公司运营管理等全方位的交流合作).
A bit more on the company's founding team: Fu was a member of the CASC teams that built the Tiangong-2 space station, and has worked on the human spaceflight and Chang'e programs. One of the directors, Mu Yuqiang, appears to be an expert in automation, having studied at the Nanjing University of Science & Technology. Overall, interesting founding team. The timing of this announcement is interesting, with an announcement earlier this year having seemingly paved the way for such a business to make sense.
As discussed on the Dongfang Hour Episode 15, in January this year we saw an RFP for low-cost spacecraft from the CMS. As noted at the time, this was an unprecedented move–human spaceflight in China has always been 100% run by the "National Team", and has generally been very hush-hush in terms of procurement, so to see an open tender like this was very surprising. The tender was released as China is assembling the Chinese Space Station, of which the Tianhe Core Module was launched back in April, and the first Shenzhou crewed mission in June, with plans for the Mengtian and Wentian lab modules set to launch next year. The tender issued in January seems to align well with the Zengzhang, in that the tender specified the requirement to return "100-200kg" of cargo to earth (reminder: Zengzhang is "more than 100kg"), and the "low-cost" requirement is certainly something that most Chinese commercial companies are familiar with. We do note, however, that the previous tender from January had a requirement to be submitted by February 2021, so while Interspace will likely bid for future tenders, it will certainly not be winning the one issued earlier this year.
Just a few notes as well on the financiers here. This is not Innoangel Fund's first investment into the space sector, with the fund having participated in two funding rounds of launch startup Tianbing Aerospace, a funding round for satellite component manufacturer Cissdata, and a very early (2016) funding round for Spacety. The company is a sort of "medium-sized" fund, with total investments of around RMB 4B, and with a focus on various technology verticals.
Of note, Innoangel Fund Partner Zhu Shaocheng is also one of the directors at Interspace Explore. Zhu has apparently been involved in the space sector in China for some time, noting in this interview from last month that he met with Spacety founder Yang Feng and co-founder Ren Weijia as early as 2016 to understand the company's business and China's rapidly-evolving space sector more generally (according to Zhu, the meeting was on a Sunday…apparently the man has a sharp memory, an accurate calendar, or the meeting made a hell of an impression).
The interview, which is worth reading in full, also describes Zhu's meetings with Tianbing Aerospace Founder Kang Yonglai, who apparently told Zhu that he wants to be the Chinese Elon Musk (apparently Zhu felt that "many people say this, I usually feel they are empty words. But after chatting with him, I thought it was quite good" ​​"有些人要说出这个话来,我会觉得很虚。但是跟他聊下来,我却觉得挺好"). Apparently, Zhu is quite bullish on the Chinese commercial space sector, which may be an indication that this is not the last space-related investment we will see from Innoangel Fund.
6) Guangzhou adds Satellite Internet to 14th Five-Year Plan
Blaine's Take
The city of Guangzhou added satellite internet to its 14th Five-Year Plan. Guangzhou is one of China's largest and wealthiest cities, and is in the very developed province of Guangdong.
We've talked about Guangdong's rising space sector on several previous episodes, so will keep this short, but the news is significant in that it represents but the latest space industry development in Guangdong Province. In the past few months, we have now seen both Guangzhou and Shenzhen–cities about 45mins apart by high-speed rail–add satellite internet to their development plans. These are not just any two cities in China–a couple of brief stats:
Combined population: 35 million (comparable to Canada)
Combined GDP (nominal): $800 billion (comparable to Switzerland, larger than Turkey. These two cities, if they were a country, would have the ~17th largest GDP of any country in the world)
GDP per capita: ~$27,000. That is to say, pretty wealthy cities.
So, the budding space sector in Guangdong is not only budding very fast, but is doing so with significant support from two of China's biggest megacities. We need look no further, in fact, than the news discussed earlier in this episode of CAS Space and Zhuhai Orbita, both of which are HQed in Guangdong (CAS Space in Guangzhou and Zhuhai Orbita in Zhuhai), and who's HQs appear to be a leisurely 1 hour and 5 minute drive apart.
In the case of Guangzhou this week, the linked article highlights 3 major projects, all of which have been covered by DFHour in previous episodes, so if you're interested, check them out for more info!
Just to round out the week, a couple of fun factoids about Guangzhou. The city is at the heart of the Greater Bay Area, one of the three major megalopolises being developed by China (other two being Jing-Jin-Ji and Yangtze River Delta). As a trading hub for several thousand years, Guangzhou is relatively international, and has historically been home to a large African and Middle Eastern community, particularly concentrated around Xiaobei. Good article from Reuters about the community's struggles post-Covid, and good China in Africa podcast episode here about a controversial campaign in April 2020 by the Guangzhou government to forcibly test Africans for covid and quarantine them.
Finally, Guangzhou is perhaps most famous for being home to one of the widest varieties of food on earth. I recall in 2011 walking down a street in Guangzhou with my brother, and seeing a street vendor with a wooden stand, on which were hanging dead snakes and other reptiles. Needless to say, my brother who had been in China for about 2 days at that point, was pretty taken aback.  In addition to the usual suspect dim sum, the Cantonese people (for whom Guangzhou is their cultural and commercial center) are known to eat just about anything, with Prince Philip (RIP) once quipping "if it had got four legs and is not a chair, if it has two wings and it flies, but is not an aeroplane, and if it swims and is not a submarine, the Cantonese will eat it." Prince Philip said it, not me.
On that happy note, this has been another (two part!) episode of the Dongfang Hour. If you've made it this far, you must really love Chinese space, so feel free to take a moment and like, comment, or share with friends. And see you next week.
This has been another episode of the Dongfang Hour China Aero/Space News Roundup. If you've made it this far, we thank you for your kind attention, and look forward to seeing you next time! Until then, don't forget to follow us on YouTube, Twitter, or LinkedIn, or your local podcast source. 
Blaine Curcio has spent the past 10 years at the intersection of China and the space sector. Blaine has spent most of the past decade in China, including Hong Kong, Shenzhen, and Beijing, working as a consultant and analyst covering the space/satcom sector for companies including Euroconsult and Orbital Gateway Consulting. When not talking about China space, Blaine can be found reading about economics/finance, exploring cities, and taking photos.
Jean Deville is a graduate from ISAE, where he studied aerospace engineering and specialized in fluid dynamics. A long-time aerospace enthusiast and China watcher, Jean was previously based in Toulouse and Shenzhen, and is currently working in the aviation industry between Paris and Shanghai. He also writes on a regular basis in the China Aerospace Blog. Hobbies include hiking, astrophotography, plane spotting, as well as a soft spot for Hakka food and (some) Ningxia wines.