by Luisa Low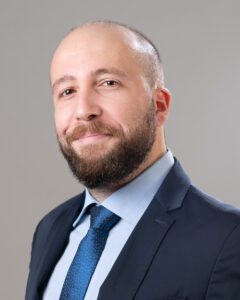 During this week's Space Café, SpaceWatch.Global publisher Torsten Kriening spoke with the ambitious and inspiring Antonino Salmeri, a doctoral space law researcher at the University of Luxembourg and the co-lead of the Space Exploration Project Group at the Space Generation Advisory Council.
Antonino is a space law subject matter expert and consummate grade A student – having studied law at the Universiteit Leiden, LUISS Guido Carli University in Rome and the Universita' di Catania, and space studies at the International Space University.
During this week's Space Café, he and Torsten discuss his life's mission, his advice for space industry new starters, and just how important jurisprudence is to the burgeoning sector.
Antonino's guiding light – Sicily and the Moon
Antonino's story starts in sunny Sicily – the Southern Italian island with a rich history and culture that borrows from its many diverse inhabitants over the past few millennia.
It's this very history that gives Antonino a sense of "solid ground" allowing him to think and focus on the future, which ever since he was a child has centred around his life's passion – the Moon.
"I think the moon is one of the most precious things that we have. And I want to help humanity to continue benefiting from it."
When weighing up his career prospects as a high school graduate, he considered "hard science" and astrophysics, but ultimately chose law while continuing to keep an eye on the sky.
"When I started law, I continued to look at the sky and the moon but as a passion."
Although space law is little known in Italy, much less his home region of bella Sicilia, Antonino has been able to carve out a niche for himself in a profession that's really starting to gear up.
Although now devoted to the topic, a specialisation in space wasn't always such a clear path. At one point during his studies Antonio became disillusioned with law, but this all changed when he heard Elon Musk talking about establishing a colony on Mars – which inspired him to to combine his legal training with his passion for the sky.
It's from this experience that he has developed sage advice for young people attempting to forge a path in the industry.
"My advice would be to not to give up, not to settle down on on something that is not really connecting with you."

"Don't to fixate yourself [too much] on something. It could be an opinion, a professional path, it could be anything. Don't be fixated – life is change, life changes continuously and there is no shame in changing an opinion or in changing a position."
Can nations establish a consensus on Lunar activities?
 Space agencies and private space enterprise are inching towards establishing the Moon as an outpost of humanity, but for a celestial object that's almost 400,000 kilometres away, there are plenty of yellow legal pads to fill and red tape to draw before a consensus on lunar operations is reached.
Given political tensions, getting nations to agree on how the Moon is run could be easier said than done, but Antonino firmly believes it's too important an asset to waste on political tensions.
However, he isn't naive in thinking a transition to a Moon economy won't be without its hurdles, instead believing a general consensus should be achieved as a jumping off point.
"It doesn't mean that we won't have competition on the Moon. It doesn't mean there won't be different interests – maybe sometimes even tensions. But that is a completely different mindset when you move from the same starting point, right.

"So this is my way forward: agreeing together on a solid document where we commit to the main things that we can do now in order to allow for a sort of 'solid base' to evolve the rules in the future, once we know more about them – this is what we call adaptive governance."
No Moon is an island – why international cooperation is fundamental
 When talking about Lunar colonisation, it's impossible not to conjure up images of the most powerful nations carving up the place and snatching prime real estate.
Although Antonino hopes the Moon will be shared space, he believes that for it to operate safely, it's imperative that space law establishes a right of way system.
This system, known as Lunar "safety zones", are less about creating borders and divisions and more about ensuring safe operation in space, which will always be an inherently hostile place for humankind to operate in.
"People who are not familiar with space law and lunar governance understand exclusionary zones as a sort of 'priority area' where you that put the fence and nobody can enter. That's not the purpose of a safety zone."

"Safety zones are simply areas that say: 'Okay, I'm operating here, up to certain amount of kilometres, I can damage you if you go in, and you can damage me if you don't tell me. So please, notify me when you're getting in so we can coordinate that you can pass through the safety zone without creating damage to me, or getting damaged yourself."
It remains to be seen how well nations will work together on a legal framework for the Moon and in the establishment of safety zones, however when we consider just how impractical and difficult it is to do anything on the Moon, it suddenly seems far more likely that disparate powers will work more cooperatively up there than they do anywhere on Earth.
"It's a very hostile environment, it's super costly to go to the Moon, it's difficult to survive the lunar nights, there are no resources that we can immediately use for building a huge base. And, if we start messing with each other, then we will never do anything there."

"Because it's not like Earth, and it is different. I want to insist on that legally, politically, technically, it's very different and the Moon is even more special."
To listen to Antonino Salmeri's insights into space law, you can watch the full program here
Space Café is broadcast live Tuesday at 4 pm CEST. To subscribe and get the latest on the space industry from world-leading experts visit – click here.
Luisa Low is a freelance journalist and media adviser from Sydney, Australia. She currently manages Media and Public Relations for the University of Sydney's Faculty of Engineering.