by Ksenia Ozkok; Founder of re-gravity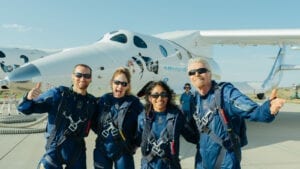 Sir Richard Branson, Elon Musk, Jeff Bezos, Emily Calandrelli, Neil deGrasse Tyson, Kellie Geraldi, Chris Hadfield, Tim Dodd (Everyday Astronaut), Tanya Harrison, Bill Nye. How are these names connected besides that these people to be the space industry's top professionals?

All of the people mentioned above have a strong personal brand within and outside of the space sector. The terms of a personal brand and self-positioning were first introduced almost a hundred years ago by an American self-help author Napoleon Hill. And, like never before, these concepts are becoming everyday terms, especially due to the pandemic and our rapid switch to more use of online media.

"Too many companies want their brands to reflect some idealized, perfected image of themselves. As a consequence, their brands acquire no texture, no character and no public trust" – Sir Richard Branson.

So here's how it works: if you don't attend a conference, most likely the audience will miss your excellent speech, but it won't affect you. When it comes to speaking about the online world, no matter if you think you have a personal brand or not, you actually do – if you have any online presence at all. 
Most likely, you've tried to Google yourself at least once in your life. Unless people know you personally, the search engine result is your personal brand – the first impression people will have of you. A personal brand is your reputation and it's not something new, it has always been an important aspect of your persona, individuality. All digitalization does is makes it easier to read and learn about you and your company before scheduling a meeting, doing business with you, or making a purchase.
The space sector is evolving daily and it is not "just a mythical place in science fiction or the province of governments and rocket scientists, but a down-to-earth market that was just as real as more traditional ones" (Robert C. Jacobson, Space is open for business, 2020). Unfortunately, we often forget that space is not as "conservative" as it used to be a decade ago. Since the beginning of "Space 2.0", there are plenty of new opportunities for innovative private companies – for people to dare, dream and create differently, proactively and openly.
Let's now go back to Branson as his personal brand is rather controversial compared to all others in the space industry.  Richard Branson's personal brand is a hundred times more powerful than the Virgin brand. He has 19,230,442 followers on Linkedin, which makes him by far the most followed professional on the platform. Google gives you 48,300,000 results when you enter his name in the search window. And what is your number when you google yourself?

Why is his brand so powerful? Because Sir Richard is being himself: as many outstanding artists he is a rebel, which is also reflected in all the sub-brands of Virgin and their actions. He is not someone you'll see in suits on social media, but in jeans and shirt, sometimes even in swimming or running attire along with his family, sitting with his laptop on his private island. Or even acting as a flight attendant on one of Virgin's flights, having fun with his team and the passengers. HE is not trying to be a personal brand – HE is his own brand. 
According to Dave Ulrich, professor at the Ross School of Business, University of Michigan, and co-founder of The RBL Group, a personal brand is when your personal strengths deliver value to somebody else. "To build a leadership brand, you have to go beyond your strengths. You have to make sure that your strengths are delivering value to somebody who's going to use them. And when you can do that, you build an identity. A brand is an identity in the mind of those who use your strengths. And that personal identity becomes your reputation. It becomes a sense and a symbol of who you are." (Dave Ulrich, Harvard Business Review, August 25, 2008).
Personal Brand is what people perceive of you based on the information that they know or can find online. It is a unique combination of skills, experience, and personality that you want the world to see. 
Do you like to know more about that? Just visit https://spacexenia.com