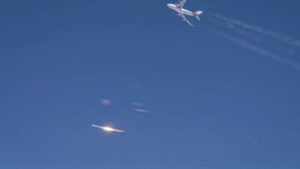 Edinburgh, 24 August 2021. –  Another lift-off: Virgin Orbit is to become publicly traded on Nasdaq through a merger with a special purpose acquisition company (SPAC) called NextGen Acquisition Corp II, the company said.  The deal values Richard Branson's satellite launch spin-off at $3.2 billion.
The agreement is to raise $483 million for the combined company, Virgin Orbit said. This includes a $100 million injection from investors such as Boeing and AE Industrial Partners. Virgin Orbit's existing shareholders – Virgin Group, Mubadala Investment Company, management and employees – will retain ownership of 85% of the combined company.  They will also roll 100% of their equity into the merger, the company said.
Virgin Orbit aspires to have about $15 million in revenue this year with an EBITDA loss of $156 million. However, the company plans to be profitable on an EBITDA-basis by 2024 and tables revenues of more than $2 billion in 2026.
The merger is expected to be completed in Q4 2021, making Virgin Orbit one of the long line of space companies going public through SPAC deals.
Richard Branson's space tourism sister company Virgin Galactic was one of the first publicly traded commercial space companies, debuting in 2019.
Other companies like Astra, AST & Science, Spire Global, and Momentus followed, with Rocket Lab expected to debut on Wednesday. Future companies to go public include BlackSky, Redwire, Satellogic, and Planet.
Proceeds from the business combination are expected to provide growth capital to further Virgin Orbit's R&D efforts to meet customer demand. It will also enable growth in its space solutions business, Virgin Orbit said.
The SPAC trades on the Nasdaq under ticker "NGCA" until the end of the year. The shares will then convert to "VORB", as the combined company will keep the Virgin Orbit name, the company said.