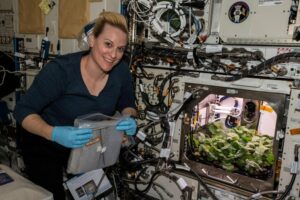 Edinburgh, 17 August 2021. – An experiment to grow plants in a space greenhouse on an industrial scale will be conducted in Russia's Nauka science research module aboard the ISS.
Experiment Vitacycle-T will involve growing Napa cabbage, grain, leguminous crops, and dwarf tomato varieties, the Russian news agency TASS reported.
Planting is planned in strips with seeds at certain intervals, the report said. The cosmonauts will be able to harvest these at specific periods. The produce grown at Roscosmos' snail-shaped greenhouse will be available for immediate consumption on board of the ISS. Some plants however, will be brought back to Earth for further study.
The NASA astronaut Kate Rubins harvested fresh radishes from ISS's Advanced Plant Habitat in December.
The Nauka laboratory module is designed for implementing applied research and experiments. With its help, the Russian segment of the ISS will receive additional space for storing cargo, accommodating water and oxygen regeneration equipment and will also provide a second toilet as well as room for a third crew member.