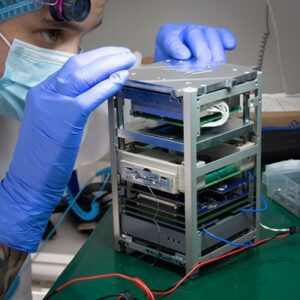 Edinburgh, 17 August 2021. – Rocket Lab will launch AuroraSat-1 on board of their Electron rocket to test space junk removal technologies for Aurora Propulsion Technologies.
The satellite will be deployed to LEO to demonstrate the company's propulsion devices and plasma brakes.
The Finnish cubesat will validate the water-based propellant, and mobility control of its Resistojets. AuroraSat-1 will also authenticate its deployable plasma brakes which combine a micro-tether with ionospheric plasma to generate drag in order to deorbit the spacecraft safely.
The alliance helps Aurora stay on track with their development plans after the original launch plans fell through, Aurora said. The new agreement means an only three-month delay for the company. Lift-off is planned in Q4, 2021 as part of a rideshare mission from Launch Complex 1 on New Zealand's Mahia Peninsula.
The launch agreement follows a collection of other satellites flying onboard Electron including Arctic Astronautics' WISA Woodsat, the first wooden satellite. The mission is expected to follow the three back-to-back launches for BlackSky Global, and the Moon mission, CAPSTONE.