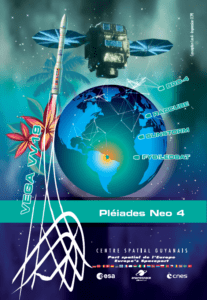 Athens, 17 August 2021. – Success for Vega: Arianespace launched the 19th Vega mission (VV19), to orbit Pléiades Neo 4, the second very high-resolution satellite of the new Airbus Defence and Space's Earth Observation satellite constellation, as well as four cubesats for ESA and Unseenlabs.
The mission was Arianespace´s 7th successful launch of the year, the company said.
Pléiades Neo 4 is the second of the four satellites of the Pléiades Neo constellation; the first was launched on Vega in April. With 30cm-native-resolution, "best-in-class geolocation accuracy" and twice-a-day revisit capability, the four Pléiades Neo satellites "unlock new possibilities with the ultimate in reactivity", Arianespace said. The satellite was fully funded and manufactured by its operator Airbus.
The Vega mission also injected four cubesats in a sun-synchronous orbit, three for the European Space Agency (ESA) and one for the French start-up Unseenlabs: LEDSAT, an educational project for optical LEO satellite tracking, RADCUBE, a demonstration of instruments to measure space radiation, SUNSTORM, to detect X-ray pulses from the Sun, and BRO-4, a cubesat for Unseenlabs´ BRO (Breizh Reconnaissance Orbiter) constellation, a spectrum monitoring and electromagnetic intelligence service for maritime surveillance.