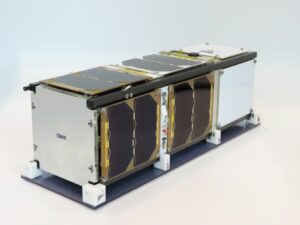 Edinburgh, 31 August, 2021. – Two Australian satellites were successfully launched through Japanese Space BD on August 29, Space BD announced.
This marks the first satellite launch for both the State of Western Australia, and the Australian Research Council Training Centre for CubeSats, Uncrewed Aerial Vehicles and their Applications (CUAVA), and the first overseas launch for Space BD.
The satellites, CUAVA-1 and Binar-1, are part of NASA's Commercial Resupply Services (CRS)-23 mission aboard Space X's Dragon 23. CUAVA-1 is planned to demonstrate advanced communications, GPS, remote sensing, and space environment measurement technologies. Binar-1, the first satellite to be launched in Western Australia uses a compact single-circuit board system. This allows for a more cost-effective alternative to current technologies, Professor Phil Bland, Director of Curtin University's Space Science and Technology Centre said. Both satellites are scheduled to be deployed from the ISS this autumn.
Space BD was appointed by Japan Aerospace Exploration Agency (JAXA) as the private partner for the small satellite deployment service from the ISS' Japanese Experiment Module Kibo in 2018. The start-up founded in 2017 provided support for the technical coordination, safety reviews, and governmental applications related to this launch.