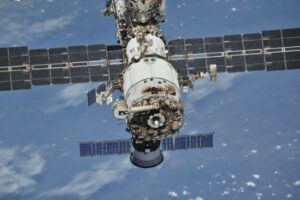 Edinburgh, 31 August 2021. – Russian cosmonauts discovered small cracks in the International Space Station (ISS)' Zarya module, according to Reuters.
The fissures are superficial but may spread over time, the report said. It is unclear whether the cracks are causing any air leaks from the orbiting lab.
Zarya was launched in November 1998. It is part of the ISS' Russian segment and was the first piece of the station to reach orbit.
This is not the first time cracks have been found on the ISS as fissures detected in September 2019 in the Russian Zvezda module caused a small air leak. Cosmonauts patched these cracks in but last month, Roscosmos reported a further drop in air pressure in the module. In 2016, ESA astronaut Tim Peake also posted a photo of a chip in the window of the ISS. Then, a hole was found in the Canadarm robotic arm earlier this year.
Most of the equipment of the ISS is starting to age. Vladimir Solovyov, chief engineer of rocket and space corporation Energia told RIA news agency that there could be an "avalanche of broken equipment" after 2025.
Ageing is not the only reason these fissures occur as space debris may damage the spacecraft as well. The crew on the ISS has had to be evacuated multiple times because of close encounters with bigger pieces. Undetectable pieces (under 10 cm) cause big problems too as the damage they cause is only discovered at a later date.