by Blaine Curcio and Jean Deville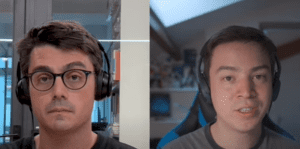 As part of the partnership between SpaceWatch.Global and Orbital Gateway Consulting we have been granted permission to publish selected articles and texts. We are pleased to present "Dongfang Hour China Aerospace News Roundup 23 – 29 August 2021".
Hello and welcome to another episode of the Dongfang Hour China Aero/Space News Roundup! A special shout-out to our friends at GoTaikonauts!, and at SpaceWatch.Global, both excellent sources of space industry news. In particular, we suggest checking out GoTaikonauts! long-form China reporting, as well as the Space Cafe series from SpaceWatch.Global. Without further ado, the news update from the week of 23 – 29 August 2021.
1) Turbulent week in US-China space relations
Jean's Take
The past week saw the 36th Space Symposium take place in Colorado Springs, USA. On the 25th of August, there was a head of space agencies panel including NASA Administrator Bill Nelson, during which he voiced strong skepticism about any collaboration with China.
During a discussion on the future of the ISS and of human presence in LEO, Nelson mentioned that he hoped to see the ISS prolonged at least until 2030, and that commercial initiatives would replace it after that date. China inevitably came up during the discussion, as the country is also currently assembling it's Tiangong space station. Nelson put aside any idea of cooperation with China due to lack of transparency, with his exact words being:
"Unfortunately, I believe we're in a space race with China. I'm speaking on behalf of the United States, for China to be a partner. I'd like China to do with us as a military adversary, like Russia has done … I would like to try to do that. But China is very secretive, and part of a civilian space program is that you've got to be transparent."
This space quote isn't without reminding us of a previous statement by Nelson in May as he was testifying in front of a White House committee, after China had landed the Zhurong rover on Mars. Brandishing a photo of Zhurong that CNSA had published earlier, he said:
 "I think that's now adding a new element as to whether or not we want to get serious and get a lot of activity going in landing humans back on the surface of the moon."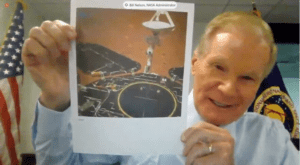 Nelson's statement was met with deep skepticism by the Chinese internet, with many netizens pointing out that US-China space relations were literally non-existent due to trade restrictions and regulations such as the Wolf Amendment promulgated in 2011, and prohibits any direct contact between NASA and their Chinese counterparts.
Taking a step back here, the tension on the US side is not unexpected, since if the ISS lifespan and funding is not extended by Congress and other ISS nations, and with commercial space stations yet to materialize, China would be the only nation with an operational space station in LEO.
Also add to that the fact that European nations and Russia have been invited to participate on-board the CSS, and that Russia has deepening ties with China on lunar base projects (ILRS), and you can start to comprehend how China is increasingly defining the international crewed spaceflight landscape, and possibly at the expense of the US.
We'll have to see how this goes in the coming years, but things should not change much, with the new US administration not showing any signs of taking a softer approach regarding China, both in space and non-space affairs.
Blaine's Take
A couple of points on the Chinese response to the above panel discussion, and the ongoings in Colorado more generally.
We saw the topic of the Space Symposium come up at a press conference halfway around the world with Foreign Ministry Spokesperson Wang Wenbin, on 25 August. The press conference was being held on "National Low-Carbon Day", and during the "31st National Energy Conservation Week", so much talk was about renewables and a sustainable future, but also included a few questions around more sensitive topics. In the context of space, a reporter from Shenzhen TV highlighted comments made by the Head of US Space Command, General James Dickinson, during his speech in Colorado. General Dickinson noted, among many other things, that US space warfighting capabilities were increasing, and that they would be conducting military exercises in space in the coming years.
Foreign Ministry Spokesperson Wang had some interesting thoughts, pointing out that
"space security is getting increasingly complicated and severe, with the US being the primary factor that has an impact on space security. In recent years, the US has openly defined space as a new warfighting domain, put in place an independent space force and space command, and vigorously built up military strength. What the US has done exacerbates the risks of weaponizing space and turning it into a war-fighting domain, and severely threatens the peace and tranquility of space. In this regard, China is deeply concerned".
Overall, some interesting developments in US/China relations and rhetoric over the past week, and fascinating that an event such as the Space Symposium could become a flashpoint for such things. If you're interested in more US-China space discussion, check out our long-form episode from April 2021 with the Secure World Foundation and Caelus Foundation, where we discuss US perceptions of the Chinese space industry.
Back to the conference, glad to see that the Space Symposium in Colorado Springs took place. Covid risk notwithstanding, I heard from a number of attendees that the conference exceeded their expectations, and that it was extremely refreshing to be back at an in-person conference. The Symposium is itself an interesting event, bringing together a lot of military space people, and an increasing number of commercial space companies. From reports on the ground, we hear there was a massive exhibition area with all the usual suspects (Raytheon, Lockheed, etc.), and then another massive exhibition area with a large number of commercial space companies.
Some other noteworthy pieces of information to come from the conference included the fact that the global semiconductor shortage is apparently impacting milsatcom, with DARPA noting that their plans to launch 12x LEO comms satellites in 2022 as part of their Blackjack Program may be impacted by supply shortages.
We also heard from Gwynne Shotwell, President of SpaceX, that Starlink will have laser terminals on all future satellites, which is apparently the reason for a current lull in Starlink launch cadence. Shotwell also noted that the biggest pain point from a cost perspective for Starlink has been the user terminal, an often-overlooked piece of the LEO constellation puzzle, and something that SpaceX is subsidizing significantly when selling to its early customer base.
2) Launch updates
Jean's Take
A couple of launch updates to discuss for this week:
Last Tuesday, a Long March-2C launched with 3 telecommunications test satellites. Limited information was available about the launch, but we do know that the main payloads appear to be the Ronghe Test Satellite-1 and -2 (融合试验卫星01/02星), and also with a third satellite being a different type of telecoms test satellite. All three of the satellites were manufactured by CAST.
We don't know much about these satellites, but a common theory among space observers is that these two Ronghe satellites are technology verification experiments for satellite internet, in the context of China wanting to build up its own megaconstellation. For one, this Long March 2C used for the second time only a liquid-fueled Yuanzheng-1S restartable upper stage, developed specifically for the LM-2C to boost its payload capacity into LEO. It also uses a new 4.2m diameter fairing with a central tube-shaped multi-satellite adapter structure which reportedly would enable the rocket to carry up to 20 satellites, hinting again at constellation deployment missions.
On a side note, another upcoming Chinese rocket with a payload capacity into LEO of up to 20 satellites is Jielong-3, a rocket manufactured by CALT commercial subsidiary China Rocket, and which should perform its maiden launch in 2022.
All of this could be signs that we may be getting closer to a deployment of Guowang satellites, aka China's response to Starlink.
Second launch of the week, and on the same day, China launched a Long March 3B carrying a "Communication Technology Verification Satellite n°7" (通信技术试验卫星七号), designed by SAST (Shanghai Academy of Space Technology).
The Long March 3B is China's GEO launch workhorse, and has been around since the late 1990s. Although its based on older rocket technologies, the rocket nevertheless was reported to have undergone several improvements for this week's launch, including:
Optimization of the precooling sequence
Improvement of the impeller blade production
New materials for the auxiliary control valve rod for increased reliability
No further information was disclosed on the communications payload of the satellite.
Blaine's Take
Very small point to add on the second launch. With regard to the Communication Technology Verification Satellite, I would note that the previous two satellites in this series, namely n° 5 and 6, were launched in early 2020 and early 2021, respectively. 5 was allegedly being used to test advanced HTS technologies, while no information was available on 6.
On to other launch updates–last Saturday, we also saw an announcement from Expace that the company's Kuaizhou-1A rocket would be returning to flight next month, with two launches planned. The KZ-1A had carried 19 satellites into orbit on 9 consecutive successful flights leading up to September 2020, at which time it failed on its 10th attempt. A solid-fueled rocket with capabilities of being launched from a Transporter, Erector, Launcher (TEL), the rocket was designed to be a "rapid-response" rocket, and has become one of several rockets favored by Chinese commercial satellite manufacturers and operators.
In the ~1 year since the failure (which also coincided with a failure of the inaugural KZ-11 launch in July 2020), we have heard limited updates from Expace. The announcement last week that the rockets were assembled and nearly ready for launch is certainly a good sign, and may bring about some relief to the launch bottleneck currently faced by commercial satellite manufacturers. As discussed on previous episodes, most CASC launches are already mostly occupied with government missions, so small-medium, rapid-response, high launch cadence rockets will be an important enabler of expansion in China's broader space sector.
With regard to this specific announcement, the first rocket set to be launched in September is known as the "Xinzhou" (新洲号), named after the district of Wuhan where Expace's parent company, Sanjiang Corporation has its operations. Sanjiang and the district government noted that the rocket represents a new chapter in cooperation between the company and the district, another example of the diverse variety of stakeholders involved in the Chinese space sector (in this case, a district government, a pure SOE in Sanjiang, and a commercial subsidiary of an SOE in Expace).
3) China's Natural Science Foundation publishes the "Guidelines for the 14th Five-Year Plan first batch of projects", hints at research on a 1-km long super space station
Jean's Take
This week, we've been hearing some stuff about China laying the groundwork for a massive 1-km long space station (to get an idea of how massive this is, let's just remind ourselves that the order of magnitude of the length of the Tianhe core module is 20-ish meters, and for the ISS it's 100-ish m).
Now, getting into the facts about this project: early in August, China's Natural Science Foundation (国家自然科学基金委员会) published a document named "Guidelines for the 14th Five-Year Plan first batch of projects", which lists and offers grants for a significant number of priority research projects, which are subdivided into categories. And among the mathematical sciences category was a preliminary research project called "Study of the dynamics and the control of a super large space structure assembly" (超大型航天结构空间组装动力学与控制"重大项目指南).
Just from the phrasing of the title, it is fairly obvious that this is early-stage research, rather than an actual project on China's space roadmap.
The purpose of such a space station would be to enable long-term stays in space, space resources utilization, extending the current space station, and advancing space exploration and space sciences.
The four research topics of the project were described as being focused on:
Weight-reducing strategies in the design of super large stations
Undoubtedly a very important topic in order to keep the weight of such a space station from getting out of control.
Dynamics of the assembly of a super large station
This is naturally because it will be impossible to launch such a big station in one go due to payload constraints of the rocket, even with China's future superheavy Long March 9.
Orbital and attitude control of a super large station
Ground simulation of the assembly of a super large station
Researchers/applicants have up to September 10 to apply. Full NSFC announcement available here.
Taking a step back here, if such a station ever does materialize, it will likely be launched in dozens and dozens of launches of a superheavy rocket like the Long March 9. And such a massive concept does remind a bit also of Long Lehao's discussion in June 2021 of GW-level Space-based Solar Stations planned for 2050, and which would have the size of several km, would weigh 10,000 tons, and necessitate 143 Long March 9 launches to be deployed!
Another one from a presentation of the president of CALT, Wang Xiaojun, in June 2021, where he discusses a preliminary study for short-term and regular human exploration of Mars, which includes spacecraft of several hundred, possibly thousands of tons.
(Also another one of these projects: the China-UK Ultra-Large Aperture On-Orbit Assembly Project)
This has been another episode of the Dongfang Hour China Space News Roundup, this for the week of the 23-29 August, 2021. For a bunch more insights on other current pieces of Chinese space industry news, check out the Dongfang Hour Newsletter at newsletter.dongfanghour.com
If you've enjoyed this video and want to support us, we are setting up an online donation box in the coming weeks, that will help the channel immensely.
If you are a company, we also do consulting work: if you are interested, do get in touch with us at [email protected]
Thank you for watching, and see you next week! 
This has been another episode of the Dongfang Hour China Aero/Space News Roundup. If you've made it this far, we thank you for your kind attention, and look forward to seeing you next time! Until then, don't forget to follow us on YouTube, Twitter, or LinkedIn, or your local podcast source. 
Blaine Curcio has spent the past 10 years at the intersection of China and the space sector. Blaine has spent most of the past decade in China, including Hong Kong, Shenzhen, and Beijing, working as a consultant and analyst covering the space/satcom sector for companies including Euroconsult and Orbital Gateway Consulting. When not talking about China space, Blaine can be found reading about economics/finance, exploring cities, and taking photos.
Jean Deville is a graduate from ISAE, where he studied aerospace engineering and specialized in fluid dynamics. A long-time aerospace enthusiast and China watcher, Jean was previously based in Toulouse and Shenzhen, and is currently working in the aviation industry between Paris and Shanghai. He also writes on a regular basis in the China Aerospace Blog. Hobbies include hiking, astrophotography, plane spotting, as well as a soft spot for Hakka food and (some) Ningxia wines.