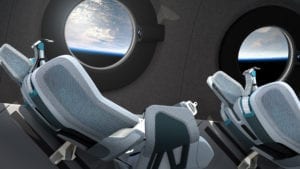 Paris, 5 July 2021. – Space Race number one: The founder of Virgin Galactic, Richard Branson, will be his own first passenger and fly into space aboard his Virgin's SpaceShipTwo (VSS) this week, on 11 July, the company and the billionaire said.
Branson thus seems to be ready to beat Jeff Bezos who announced that he would get on board his Blue Origin's New Shepard spacecraft, together with his brother Mark, for a flight on 20 July, which is a historic date: the 52nd anniversary of Apollo 11's Moon landing.
With the actual kickoff of the touristic era in space, two debates have gained momentum: What is space? And who's an astronaut?
The so-called Kármán line at 80 kilometers from Earth – which Virgin Galactic's VSS Unity has slightly surpassed – is widely accepted as the edge of space. Blue Origin's New Shepard went beyond 100 kilometers already – in an unmanned test flight.
The other question vividly discussed is: Is anybody who reaches that line or beyond going to be called an astronaut? Or will be maintain a professional notion of astronauts versus 'astro-tourists'? To be decided; maybe by the billionaire who first crosses that line.