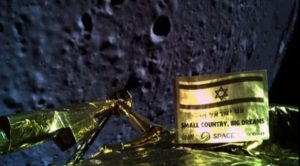 Luxembourg, 12 July 2021. – They will try again: Israel's SpaceIL, the company that lost the Beresheet lander on the Moon two years ago, raised $70 million for its second mission in 2024, media reports and SpaceIL said.
The financing was raised from a group of entrepreneurs and philanthropists, comprising Patrick Drahi, from the Patrick and Lina Drahi Foundation; Morris Kahn and the Kahn Foundation, and the Moshal Space Foundation, in partnership with Entrée Capital, the reports said.
SpaceIL estimates the total cost of the mission at $100 million.
The Beresheet2 mission plans to break several records, SpaceIL said, including a double landing on the Moon in a single mission by two of very small spacecrafts, weighing 120 kilograms each.
One of the two spacecraft aims to land on the dark side of the Moon – which only China has accomplished to date, the statement said.
The mothership is meant to remain in space for five years and serve as a platform for scientific activities.