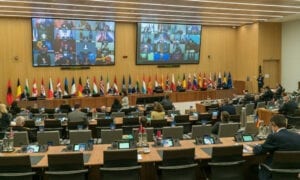 Berlin, 17 June 2021. – NATO's defense spendings are likely to increase driven by expansion into space, the data and analytics group GlobalData.
The comment follows the news that NATO leaders have declared that "attacks in, to and from space against any member will now trigger the mutual defense agreement and obligate allied members to respond", GlobalData said.
"T]he decision to add space conflicts to Article 5 marks a significant shift in the perceived threat of military space activities," Madeline Wild, Associate Defense Analyst at GlobalData said.
"The need to respond to any space-related conflicts means NATO members are likely to increase spending on technologies capable of monitoring and launching both offensive and defensive attacks."
"According to GlobalData, the military satellite market is currently worth $9.4bn, with the US and the EU accounting for over 47%. The market, forecasted to be worth $13.7bn by 2031, is expected to grow further to accommodate this announcement," she said.