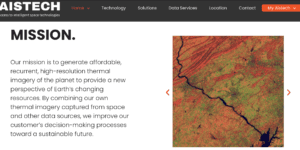 Paris, 24 June 2021. – The space transportation and logistics company D-Orbit will launch and deploy a cubesat from Aistech Space on its ION satellite carrier, the startup based in Como, Italy said.
The 6U CubeSat nanosatellite, named Guardian, will carry a multispectral telescope designed by Aistech Space, with a variety of sensors from the visible, near infrared, and thermal infrared spectrum, D-Orbit said.
Guardian will be launched and deployed with its ION Satellite Carrier, the orbital transportation vehicle designed, manufactured, and operated by D-Orbit to transport a batch of satellites.
Aistech Space is planning to deploy a constellation of 20 Guardian satellites, D-Orbit said.
"This will be one of the first commercial constellations able to collect thermal data on demand", it said. Information captured by Aistech Space's multi-spectral telescope is supposed to support decision making in water management, forestry, environmental monitoring, and maritime security.