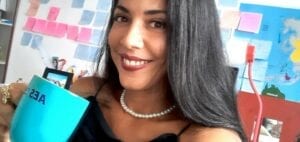 In this week's Space Café Brazil, Aila Raquel, CEO of Alya Nanosatellites Constellation E.O., Brazil, talked about her experience in starting a space start-up in Brazil.
Aila Raquel is the CEO of Alya Nanosatellites who is committed to a global challenge for sustainable development. Incorporating Agenda2030 at Alya's goals, She is taking bold and transformative measures to promote sustainable development in the next 09 years, promoting impacts on at least 15 of the 17 sustainable development goals.
Driven by the integration of economic growth, social justice, and environmental sustainability, Aila is developing a space company that will strengthen Brazil's economy, providing satellite data, in-orbit sensor calibration, and ground station services to deliver solutions for various sectors and help with environmental protection.
Aila has directed her efforts to involve the participation of different nations, who have common goals and who can act in the spirit of a global partnership to improve people's lives, now and in the future.
This Space Café Brazil, held on 14 April 2021, was hosted by Ian Grosner, correspondent of SpaceWatch.Global in Brazil.
SpaceWatch.Global is a Switzerland-based digital magazine and portal for those interested in space and the far-reaching impact of the space sector.
Here the video: