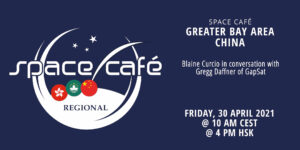 Join SpaceWatch.Global for an interesting and informative new format – Space Café Greater Bay Area China. It will feature Gregg Daffner, CEO of Gapsat and longtime Asia-Pacific satcom executive in conversation with Blaine Curcio, founder of Orbital Gateway Consulting and a friend of SpaceWatch.Global.
This event will take place on 30 April 2021 at 10:00 am CEST.
Gregg and Blaine will discuss satellite in Asia-Pacific, Hong Kong's evolving role in the region, and life in the satcom industry during the Coronavirus pandemic.
With the 45-minute and time for questions, we look forward to hosting guests in this first edition of the Space Café Greater Bay Area China, the first of an ongoing dialogue of the Space industry in the region.
The audience will have an opportunity to ask questions in dialogue with Gregg Daffner.
SpaceWatch.Global is a Switzerland-based digital magazine and portal for those interested in space and the far-reaching impact of the space sector.
This Space Café Greater Bay Area China will be conducted in English. Reserve your place today.