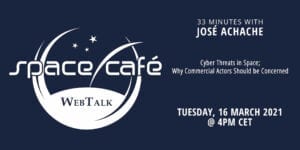 Join SpaceWatch.Global for an interesting and informative Space Café WebTalk featuring José Achache, Space innovation architect, CEO of ALTYN, Geneva, Switzerland. This event will take place on 16 March 2021 at 4:00 pm CET.
With easier access to space and the boom of new space services relying on increasingly valuable data, space assets are becoming an attractive target for hackers. ​Now is the time to build a European ecosystem able to respond to the current and future challenges of securing space assets, data and services in order to remain at par with leading space nations and preserve our sovereignty. ​
Our talk will cover:
Recent trends: software-defined satellites, in-orbit reconfiguration, short time-to-market, more powerful payload, more sensitive data, more computing power, more value on board, need to fly innovation much faster, more "as a service" / outsourcing (rideshare), as issues with the trust of third parties
Why space companies are also vulnerable and should be concerned?
Hacking may come also from competitors. And from competing nations!
Quantum as a solution?
Newspace: the effects of the scale of deployments on the risks (collisions, debris), the vulnerabilities of COTS, the growing awareness of end-users and investors!
This Space Café WebTalk will be hosted by Torsten Kriening, publisher of SpaceWatch.Global. The audience will have an opportunity to ask questions in dialogue with José Achache.
SpaceWatch.Global is a Switzerland-based digital magazine and portal for those interested in space and the far-reaching impact of the space sector.
This Space Café WebTalk will be conducted in English. Reserve your place today.