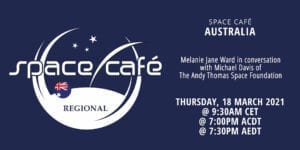 This Space Café Australia will feature Micheal Davis, Chair of the Andy Thomas Space Foundation in conversation with Melanie Jane Ward, Correspondent of SpaceWatch.Global for Australia and New Zealand. This event will take place on 18 March at 9:30 am CET.
With the 11th Australian Space Forum coming up on March 31st, Micheal, a long time supporter of Australian space is joining us to discuss the upcoming forum and the work he has done in Australia for space. Presently he is Chair of the Andy Thomas Space Foundation and a Director of Smart SAT CRC Limited, continuing his long service of space outreach in Australia. How did a space lawyer get involved with space outreach? Join us at Space Café Australia to find out and get a chance to learn more about the Australian Space community!
Michael Davis is Chair of The Andy Thomas Space Foundation, an Australian charity incorporated in July 2020. He is also a Director of Smart CRC Limited and a former Chair of the Space Industry Association of Australia. He holds the degrees of Bachelor of Laws from the University of Adelaide, Australia and Master of Science (Space Studies) from the International Space University in Strasbourg, France. He practised law for 41 years, including 22 years as a partner of Ward & Partners, a major South Australian legal firm. In 2002 he co-founded Adelta Legal, a specialist commercial law firm, retiring from legal practice in 2014.
His volunteer service in the space sector includes five years as Chair of the Space Industry Association of Australia and 20 years' membership of the Board of that organisation. He proposed Adelaide as the host of the International Astronautical Congress which was held in 2017, and chaired the Congress Local Organising Committee for that event. He was a leading advocate for the establishment of the Australian Space Agency, an Australian Government decision announced at the Congress. He also played a key role in organising a number of International Space University programs and courses in Australia including the establishment of the Southern Hemisphere Space Studies Program which is held annually in Adelaide.
The audience will have an opportunity to ask questions in dialogue with Micheal Davis.
SpaceWatch.Global is a Switzerland-based digital magazine and portal for those interested in space and the far-reaching impact of the space sector.
This Space Café Australia will be conducted in English. Reserve your place today.