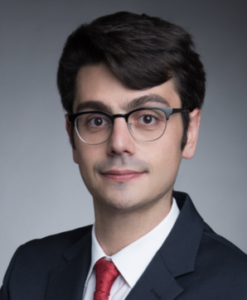 Torsten Kriening in conversation with China space analytics expert, self-proclaimed "#ChinaSpaceGuy" and founder of Orbital Gateway Consulting –  a boutique market research and consulting firm focusing on the business of space and satellite telecommunications – Blaine Curcio.
Blaine Curcio was born in the US and has spent the last 14 years working and studying in the international space industry. Having previously worked in China and the Netherlands, he is currently based in Hong Kong, where in 2018 he founded space market research and consulting firm, Orbital Gateway Consulting.
A previous consultant for West East Space, SES Satellites and Euro Consult, his research and analysis have focused on China's growing space industry and the geopolitics that are changing the frontiers of commercial space.
Working across Asia has allowed Mr Curcio to examine China's relationship with space from a comparative viewpoint. In this week's Space Cafe he and Torsten Kriening discuss the nuance and changing capabilities of the Chinese space arena and the geopolitics of the future space race.
A Great Wall between China and the West: could a global industry splinter into broader programmes?
Mr Curcio believes there's the potential for the once collaborative international industry to become a splinternet, with signs that a broader system may be developing between Europe and the US, and between China and current outliers, such as Pakistan, Venezuela and Sri Lanka, who in the next two decades could work with China to send cargo into low-orbit.
However multiple players and investment firms continue to operate between both spheres – such as silicon valley venture capital firm, Sequoia Capital which has established roots in China.
Governments driving commercial space enterprise: are China and the US that different?
Can a purely commercial space outfit in China survive? Mr Curcio says that while government money is used to subsidise and propel the Chinese industry, in many ways this isn't so different from NASA's fundamental role in the US's commercial space industry. For example Space X – while a private enterprise – is largely buoyed by NASA contracts.
"It's hard to start a Chinese commercial space company, but it is even harder to kill a Chinese commercial space company".
And while it's true that the Chinese government's space spending is significant, Mr Curcio says the sector is changing due to more stringent tenders, with regulation forcing up-and-coming Chinese space companies to pivot into new fields, making it increasingly competitive for local upstarts.
Will the LEO Broadband constellation ignite Chinese telcos' role in space?
Mr Curcio believes the Chinese government is likely to make a formal announcement of its LEO Broadband Constellation as early as this year, which could mean its largest telecommunications companies could contribute to satellites and associated technologies.
However, he says it remains to be seen to what extent China's 3 state-owned telecommunications companies – China Mobile, China Telecom, China Unicom – which have an "oligopoly" of 1.3billion subscribers – will be incentivised to invest in satellites.
This Space Cafè WebTalk, held on 2 March 2021, was hosted by Torsten Kriening, publisher of SpaceWatch.Global. 
SpaceWatch.Global
is a Switzerland-based digital magazine and portal for those interested in space and the far-reaching impact of the space sector.
Space Cafe "33 minutes with… " is broadcast live each Tuesday at 4pm CET.
To listen to Blaine Curcio's insights into the Chinese space industry, you can watch the full programme here: