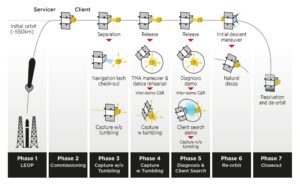 Paris, 24 March 2021. – Astroscale launched its end-of-life services demonstration ELSA-d on a Soyuz rocket from the Baikonur Cosmodrome in Kazakhstan on Monday, the company said.
The successful launch "marks the start of the world's first commercial mission to prove the core technologies and capabilities necessary for space debris docking and removal", the UK company said.
Astroscale positions itself as "the market leader in satellite servicing and long-term orbital sustainability across all orbits".
ELSA-d consists of two satellites stacked together: a servicer designed to safely remove debris from orbit and a client satellite that serves as a piece of replica debris, for demonstration purposes.
The demonstration will happen in three steps. First, the servicer satellite will release, and then dock magnetically, with the client satellite. Then, the servicer will try to capture the client while it is tumbling, and thirdly re-capture and approach it from far-range while it is deliberately lose.
Finally (and somehow sadly), the two spacecraft will de-orbit safely, burning up in the Earth's atmosphere on re-entry.