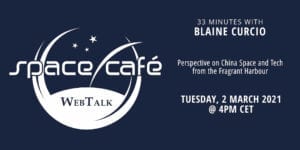 Join SpaceWatch.Global for an interesting and informative Space Café WebTalk featuring Blaine Curcio, Founder of Orbital Gateway Consulting and Senior Affiliate Consultant at Euroconsult, Hong Kong. This event will take place on 2 March 2021 at 4:00 pm CET.
Blaine Curcio will discuss the rapidly evolving Chinese space sector, the global industry and the rise of LEO broadband constellations, and his ~10 years in Greater China more generally.
The global space industry is currently experiencing two major trends: the rise of commercial space, most notably companies like SpaceX/Starlink, and the rise of China. Blaine has been at the intersection of these two trends for most of the past decade, standing with one foot in his home country of the United States, and the other in his adopted home country of China.
Whether interested in Chinese broadband constellations, the perceptions of Elon Musk in China, or insights on the China/US tech split, this Space Café WebTalk will provide a deep-dive into the Middle Kingdom.
This Space Café WebTalk will be hosted by Torsten Kriening, publisher of SpaceWatch.Global. The audience will have an opportunity to ask questions in dialogue with Blaine Curcio.
SpaceWatch.Global is a Switzerland-based digital magazine and portal for those interested in space and the far-reaching impact of the space sector.
This Space Café WebTalk will be conducted in English. Reserve your place today.