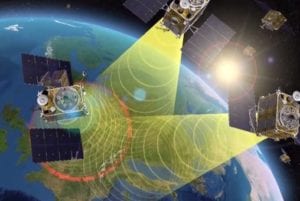 Paris, 10 February 2021. – The European GNSS Agency (GSA) in Prague has selected Eutelsat for the development, integration and operation of its next-generation EGNOS GEO-4 service.
The contract covers 15 years of service provision and represents a total value of €100 million, of which €85 million are still subject to the confirmation of funds from the European Union 2021-2027 budget, Eutelsat announced. 
EGNOS is the European Geostationary Navigation Overlay Service that acts as an augmentation service to global positioning systems, to improve the reliability of positioning information.
Eutelsat already operates the EGNOS GEO-3 payload on its Eutelsat 5 West B satellite which entered into service in February 2020, the company said.
Built by Airbus Defence and Space, Eutelsat's Hotbird 13G satellite, which will host the EGNOS GEO-4 payload, is scheduled for a launch in the first half of 2022.