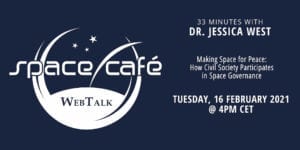 Join SpaceWatch.Global for an interesting and informative Space Café WebTalk featuring Dr. Jessica West, Senior Researcher at Project Ploughshares, Waterloo, Canada. This event will take place on 16 February 2021 at 4:00 pm CET.
Why does peace matter in space? This session will explore the role of civil society in space governance. Jessica is a long-time editor of the Space Security Index and frequent participant at the United Nations First Committee, Conference on Disarmament, and the UN Committee on the Peaceful Uses of Outer Space. As both a researcher and an advocate for the peaceful use of outer space, her recent work involves mapping the normative landscape in outer space as a way to inform better security practices, and highlighting the civilian consequences of conflict.
This Space Café WebTalk will be hosted by Torsten Kriening, publisher of SpaceWatch.Global. The audience will have an opportunity to ask questions in dialogue with Dr. Jessica West.
SpaceWatch.Global is a Switzerland-based digital magazine and portal for those interested in space and the far reaching impact of the space sector.
This Space Café WebTalk will be conducted in English. Reserve your place today.