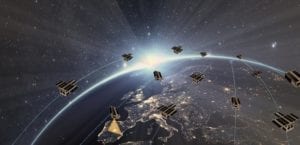 Luxembourg, 27 January 2021. – A group of two dozen Spanish companies wants to design, manufacture and launch a constellation of 30 Earth observation satellites, the consortium announced.
The project will involve an investment of 147 million euros and will enable the digitisation of multiple strategic sectors, as well as obtaining key data for environmental monitoring and ecological transition, the group led by the space mission operator Open Cosmos said.
The consortium brings together 23 actors – large entities, SMEs and research centres – and includes, in addition to Open Cosmos, Sener, the Instituto Astrofísico de Canarias, the space cluster of the Community of Madrid, IEEC, i2CAT and ICGC.
"The ultimate goal of this constellation of more than 30 earth observation satellites, the first phase of which is expected to begin operating in less than two years, will be to build digital models to address the main challenges facing Spain in terms of sustainability, digitisation and optimisation of multiple economic sectors with frequent data of high scientific value," the consortium said.
The satellites will include novel propulsion systems, a generation of observation cameras with integrated Artificial Intelligence, a high bandwidth communications system or the integration of applications with terrestrial and satellite Internet of Things (IoT) services, among other elements.
In addition, a data platform will be deployed in the cloud where, through advanced processing techniques supported by artificial intelligence, it will be possible to analyse the environment for effective decision-making, allowing direct applications in agriculture, civil and environmental protection, alternative energies, infrastructure management, prevention and detection of natural disasters.