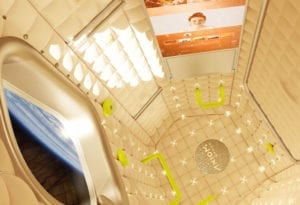 Luxembourg, 27 January 2021. – Pretty starck: The start-up Axiom Space wants to send the first fully private crew to the International Space Station (ISS) on its upcoming AX-1/ SpaceX mission next year, the firm announced.
Michael López-Alegría, a former NASA astronaut and Axiom Vice President, will command the flight, joined by the former Israeli fighter pilot Eytan Stibbe and two private investors, the U.S. real estate entrepreneur Larry Connor and the Canadian investor and philanthropist Mark Pathy, the Houston-based space start-up Axiom said.
The AX-1 mission is scheduled for January 2022. According to media reports and industry sources, the mission costs $55 million per person.
Axiom Space wants to replace the ISS and launch the first private outpost into Low Earth Orbit, as a "commercial laboratory and residential infrastructure in space that will serve as a home to microgravity experiments, critical space-environment materials testing, and private and professional astronauts alike", as the firm says.
Philippe Starck designed the station's interieur, the "Axiom crew accommodations", an egg-like structure symbolizing "nest-like comfort" with "unobstructed views of our home planet", Axiom says.