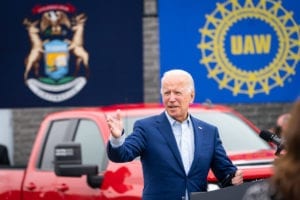 Paris, 10 November 2020. – Space is not amongst the priorities that U.S. President-Elect Joe Biden and Vice-President-Elect Kamala Harris have announced so far, according to the "Biden-Harris Transition" website buildbackbetter.com.
The four priorities mentioned by Biden and Harris are: COVID-19, economic recovery, racial equity, and climate change.
"The Biden-Harris plan will mobilize the American people in service of four bold, national efforts to address four great national challenges," the website says. Biden and Harris intend to "(m)obilize American manufacturing and innovation to ensure that the future is made in America, and in all of America"; "(m)obilize American ingenuity to build a modern infrastructure and an equitable, clean energy future"; (m) obilize American talent and heart to build a 21st century caregiving and education workforce"; and "(m) obilize across the board to advance racial equity in America".
Under Climate Change, the website announces "far-reaching investments" in infrastructure ("from roads and bridges to green spaces and water systems to electricity grids and universal broadband"), auto industry, transit (public transport), the power sector, buildings, housing, innovation ("clean energy technologies, including battery storage, negative emissions technologies, the next generation of building materials, renewable hydrogen, and advanced nuclear"), agriculture and conservation, as well as "environmental justice".
Following the U.S. elections, NASA Administrator Jim Bridenstine had indicated that he would not work for the Biden-Harris administration.
U.S. President Donald Trump announced on Twitter yesterday that Christopher C. Miller, Director of the National Counterterrorism Center, replaces Mark Esper as Acting Secretary of Defense of the U.S.