by Blaine Curcio and Jean Deville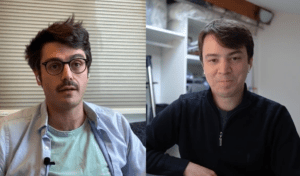 As part of the partnership between SpaceWatch.Global and Orbital Gateway Consulting we have been granted permission to publish selected articles and texts. We are pleased to present "Dongfang China Aerospace News Roundup 2 Nov – 8 Nov 2020".
Hello and welcome to another episode of the Dongfang Hour China Aero/Space News Roundup! We come to you one day late this week, having spent nearly 2 hours yesterday speaking with our friend and colleague Kevin Xu of Landspace, on topics related to reusable rockets, the differences between SOEs and commercial companies in China, and Kevin's thoughts on rocket cams. Our interview with Kevin will be available in around 1 week. That being said, this week we bring you updates on Galactic Energy, China's maritime satcom industry and the product offerings therein, and China's role in the regional EO market.
Galactic Energy
Galactic Energy completed a RMB 200 million Series A funding round in September, a round that was announced last week. This is the company's first round in ~11 months, having raised RMB 150M in Oct 2019. The company has now raised ~RMB 500 million across 4 rounds, a feat made even more remarkable by the fact that they were founded just under 3 years ago. Funding will go towards accelerating the development of the company's Pallas-1 and Ceres-1 rockets. Galactic Energy is now quite likely one of the top 4 commercial launch companies in China, along with Landspace, iSpace, and Expace. This status in the "Big Four' of China's commercial launch sector was enhanced just a couple of days ago, when on November 7th 2020, Galactic Energy held the inaugural launch of its solid rocket the Ceres-1, becoming the 2nd private company in China to put a satellite into orbit after iSpace. Ceres-1, much like iSpace's Hyperbola-1, is a small rocket with a capacity of 350 kg into LEO. While similar in propulsion technology, there are some definite slight differences between the two rockets (separation method, attitude control). Galactic Energy's inaugural launch on the 7th was also noteworthy in that it was commercial, with the Ceres-1 rocket launching the Tianqi-11 satellite for Guodian Gaoke, a satellite manufacturer that plans to launch and operate the Tianqi constellation.
Maritime Space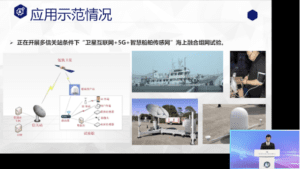 In the maritime space, we saw announced this week that the CASIC 2nd Academy, in partnership with the China Unicom Research Institute and the government of Zhoushan City, Zhejiang Province, completed China's first "Low Orbit Broadband Satellite + 5G Maritime" test. While the article, which was originally published by the CASIC 2nd academy, does not explicitly mention Hongyun, the phrasing of LEO broadband satellite would almost certainly imply that the tests were using the Hongyun test satellite, launched in late 2018. As we can see in the photo above, taken from a CCAF 2020 speech, CASIC's 2nd academy was discussing using Hongyun for maritime + 5G tests a couple of weeks ago, apparently referring to the same test.
Separately, as part of China's 11/11 "Singles Day", a huge online shopping day, we saw SinoSat release its 11/11 promotions for its Haixingtong maritime satcom service, which included 200MB of free data upon signing up, RMB 800 per year for unlimited voice, and several other offers. SinoSat is a ChinaSat subsidiary with focus on several high-value verticals with global requirements, i.e. maritime satcom, and has been building out a maritime satcom service for several years using satellite capacity from ChinaSat among others.
Asia-Oceania Group on Earth Observations
Finally, the Asia-Oceania Group on Earth Observations (AO GEO) held a meeting in Changzhou early in the week. The event was attended by 15 countries and several international organizations. "Earth observation applications were urgently needed as countries and regions in the Asia-Oceania region face severe, complex and diverse problems of climate change and sustainable development", said Wu Yirong, dean of the Aerospace Information Research Institute under the Chinese Academy of Sciences
"China is playing an important role in the Asia-Oceania region, with the second highest number of remote sensing satellites in the world and its application of Earth observation shifting from experimental use to business services", said Wang Qi'an, the director of the National Remote Sensing Center of China
This has been another episode of the Dongfang Hour China Aero/Space News Roundup. If you've made it this far, we thank you for your kind attention, and look forward to seeing you next time! Until then, don't forget to follow us on YouTube, Twitter, or LinkedIn, or your local podcast source.
---
---
Follow DongFang Hour on Twitter @DongFangHour , Youtube or on https://dongfanghour.com
Blaine Curcio has spent the past 10 years at the intersection of China and the space sector. Blaine has spent most of the past decade in China, including Hong Kong, Shenzhen, and Beijing, working as a consultant and analyst covering the space/satcom sector for companies including Euroconsult and Orbital Gateway Consulting. When not talking about China space, Blaine can be found reading about economics/finance, exploring cities, and taking photos.
Jean Deville  is a graduate from ISAE, where he studied aerospace engineering and specialized in fluid dynamics. A long-time aerospace enthusiast and China watcher, Jean was previously based in Toulouse and Shenzhen, and is currently working in the aviation industry between Paris and Shanghai. He also writes on a regular basis in the China Aerospace Blog. Hobbies include hiking, astrophotography, plane spotting, as well as a soft spot for Hakka food and (some) Ningxia wines.