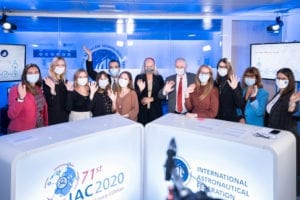 2020 changed everything, also the International Astronautical Congress. Instead of meeting the global space community in person in Dubai this year, we met in CyberSpace during the first edition of the International Astronautical Congress earlier last week from 12-14 Oct 2020. SpaceWatch.Global Editor-in-Chief Markus Payer had the opportunity to talk with Prof. Dr. Pascale Ehrenfreund, President of the International Astronautical Federation and host for this year's IAC edition. And of course, this interview was conducted online.
Markus Payer: Pascale, thank you for taking the time to talk to us after such exciting and busy days. You said that the first CyberSpace edition of the International Astronautical Congress was a big success. How do you measure this success?
Pascale Ehrenfreund: Our Congress normally had 6,000 to 7,000 attendees, which is quite amazing, and it has been growing steadily. Now we had more than 13,000 attendees from 135 countries. This means that we are reaching actually more people and more countries with a virtual and digital congress. I think that's quite an incredible success.
Did you have to switch to a new business model? You offered the access to the congress for free…
We had a lot of sponsors, a lot of promotional videos during the show, more than 20 video announcement, and 34 virtual exhibition booths. So it's a business model. And even when we are, hopefully, meeting face to face again, we want to keep some of those additional features. We live the digital transformation.
Does that mean that you will go back to real conferences as soon as you can?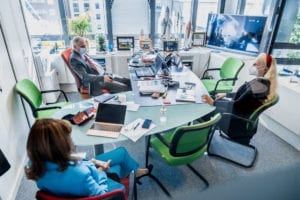 I do think that it is very important to return to face-to-face platforms, and that is why we are planning to meet end of October 2021 in Dubai, and we want to have the Global Space Exploration Conference in June 2021 in St. Petersburg. But many features which we have developed for the digital CyberSpace edition will find their way into future conferences and congresses, I'm sure. Digital formats make the attendance much more flexible, and you can click on sessions that you were actually not able to attend.
How important was it for you, when you designed the congress, to not only look upstream, to space, but also downstream at where space technologies translate into applications?
Our model is to connect space people from all domains. Our program is conceived through many committees and includes space applications and services, we are huge family. This time, we had a strong focus on space exploration, because there are a lot of amazing things going on. And we addressed space commercialization, artificial intelligence in space, debris removal, and climate change to name a few. 50% of our participants are under 35, that has changed dramatically in the last years. Digital and social media play a completely different role today.
What about the gender mix? Is the industry changing?
Certainly. We have a program called "IAF 3G Diversity", which stands for gender, generation and geography. This is our mantra. We want to have more members, especially from emerging countries, and we want to have a good age distribution. We need tomorrow's decision makers, the young professionals. And we need more women in the space sector. We actually had more women than men attendees in the Next Space Generation conference which took place on the weekend before the IAC.
You mentioned the main topics of the congress. What were the topics on the digital corridors, the sort of elephants in the room, the topics you did not plan?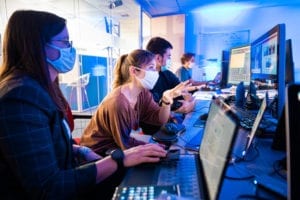 This kind of spontaneous discussions are, of course, a little bit more complicated in a digital format. But look at the questions from the audience, one of the most pertinent questions was about emerging nations. A lot of people, especially young people, zoomed in from abroad. And their question was, how can we get involved in space and space research, how can we enter and how can we bring something back to our country. In the more established community, the question was, where does international cooperation in space stand. Is the Artemis program open to international partners? For China, are you open to international cooperation? And obviously a lot of questions on the impact of the Covid-19 pandemic on the space sector. And it was interesting to see that so many space endeavors and three Mars missions just happened right now, in the middle of the pandemic. It is a good sign.
Do you not see international cooperation at risk? So many countries just seem to go their own way…
Covid-19 definitely made it more difficult to work together internationally. But honestly, I had the feeling that the space leaders are looking for international cooperation. Going further into a lunar ecosystem, and then onto Mars – nobody can do that alone. All nations have actually shown their interest to work together. Of course, countries will have to have national programs, they need political support at home, they need to get people's buy-in and state funding. But there are so many things that no one can do alone. The questions about mega-constellations came up immediately, this requires a lot of discussion. How do we regulate space systems when thousands of satellites go up there and populate space? I think that our Congress could show that we can have these discussions and that we have them in an international and cooperative spirit.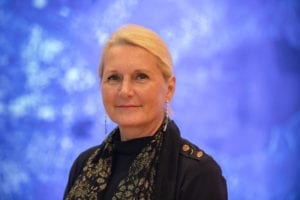 Prof. Pascale Ehrenfreund obtained degrees in Astronomy and Biology at the University of Vienna. She was appointed as a Fellow of the European Space Agency (ESA) at the Leiden Observatory in the Netherlands, upon completion of her doctoral studies. Between 2001 and 2005, Pascale Ehrenfreund held a professorship in Astrobiology at the University of Amsterdam and the University of Leiden, where she remains a Visiting Professor today. In addition, between 2005 and 2008 she was a Distinguished Visiting Scientist at the Jet Propulsion Laboratory in Pasadena, USA. Since three decades she contributed as Principal Investigator, Co-Investigator and Teamleader to ESA and NASA astronomy and planetary missions as well as experiments in low Earth orbit and on the International Space Station. In 2008 Pascale Ehrenfreund obtained a Master of Arts in Management and Leadership. Since then, she has been Professor of Space Policy and International Affairs at the Elliott School of International Affairs, George Washington University. She was the President of the Austrian Science Fund (2013-2015) and the Chair of the Executive Board of the German Aerospace Center (DLR) between 2015-2020. The asteroid "9826 Ehrenfreund 2114 T-3" bears her name.
Pascale Ehrenfreund, took up duty as IAF President at the IAC 2019 and announced her IAF Global Advocacy Agenda 2019 – 2022, focusing on supporting and facilitating global space governance, stimulating and propelling global space economy and influencing and fostering global space advocacy.