By Dr. Emma Gatti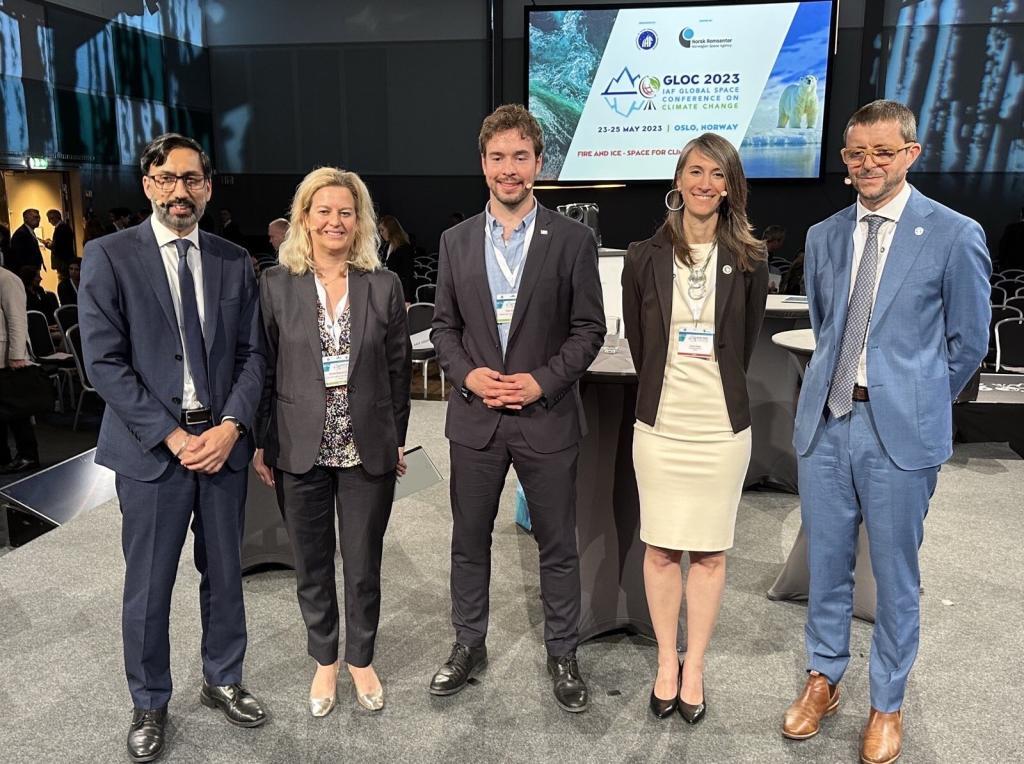 A post-GLOC reflection on the responsibilities of the space sector in the fight against climate change.
On the 25th of May 2023 GLOC, the first conference entirely focused on the role of the space sector for climate change mitigation, closed its first, extremely successful edition. Co-organized by the International Astronautical Federation (IAF) and the Norwegian Space Agency (NOSA), it was held in Oslo, Norway, and it was built with the idea to bring under the same roof the space community, the end users and the policymakers, to tackle the thorny question "How can Space help climate change action?".
Gaps and Lacks in the Climate Change Action
The conference asked several operative questions to its audience. For example, how shall Space improve to make its abundant archive of data more available and useful to end users (a.k.a. NGOs and local organizations working directly with climate change-induced issues), or what is the sector working on right now to provide tangible solutions for sinking islands and melting glaciers, or again, how to improve the cooperation between research, industry, and government to provide more actionable insights. It also presented several top-class projects like by GHGSat and MethaneSAT. These projects are actively involved with gas emissions tracking and can provide the backbone of solid policies that could in turn structure interventions.
Two broad gaps emerged from the three-day conference. The first one is the missing link between data production (trillion of gigabytes of measurements) and data translation into concrete plans. Such a gap makes most of the data unusable because data are not translated into concrete statistics that policymakers and local communities can digest. The second gap concerns tailored data. It was clear from the several interventions by end users working with land and sea management (i.e. Tom Gardner from the Maldives Space Research Organization, Julian Fox from FAO, or Nicole Quijano-Evans from the UN Office on Drugs and Crime) that global data to study large-scale parameters (CO2 and CH4 monitoring, temperature and sea level rise, increase in hurricanes, etc.) are of small use for local communities. The need for higher resolution datasets and free access to satellite data was one of the most concrete outputs from the conference (noticeably, only a few nations allow free access to their EO data to NGOs and international organizations, among these NASA and the Norwegian Space Agency).
Both gaps raised a question that the Space sector should reflect upon: who should take the responsibility to translate data into projections, reports, tailored analyses, and concrete solutions? The Space sector, and in particular government agencies? Or should this be the responsibility of other endeavours (i.e., middle-scale industries, third parties, insurance bodies, new governmental and local task forces with space -or at least data processing- knowledge and tailored local and technical skills)? This does not take away the merits of a research field that has been from the beginning describing without filters the devastating effects of temperature rising. From NASA's spectacular CO2-tracking website to decades of timelines observations of our melting ice and shrinking forests, to space-led initiatives to raise awareness around climate change, the space sector has provided key elements which led to the foundations of the Paris Agreement and the Kyoto Protocol. However, the perceived atmosphere over GLOC was that Space is waiting for someone else to take action. The Space industry emerged from the conference as an industry more concerned with observing the phenomenon, rather than providing a solution to it. Like in the early stages of medicine, climate change science seems not yet able to offer a solution to the causes, but only a description of the effects.
However, the issue is well-known within the industry, and some agencies are already acting on it. NASA has already started to produce reports that are tailored to the needs of communities affected by issues observed by their satellites, and DLR (German Aerospace Center) is working on a CO2-monitoring mission called CO2Image that will allow a much higher resolution observation of specific buildings producing a high level of CO2. The idea is to be able to inform local authorities of which industries produce more gas emissions.
Is, therefore, this perceived inertia due to a lack of will, or simply the need to conclude Step 0 (data collection and interpretation) before moving to Step 1 (data application)? As a scientist, I opt for the second one. However, there is more to digest from GLOC than these practical questions.
Youth, politics, and responsibilities
GLOC was undoubtedly a young conference. They will tell you that it was an old and business-as-usual conference (see Steven George's article "GLOC2023 – Frustrations and Encouraging Takeaways", or Tom Gardner's piece "The GLOC is ticking"), but the truth is, it wasn't. At least it was not when compared to other space conferences. This is more of a criticism of the conservativism of the Space industry, rather than a note of merit for GLOC. Nevertheless, it is undeniable that when compared to other small, medium, and even large space conferences GLOC was a breath of fresh air. Not only were young representatives allowed on stage (it rarely happens) but they were involved in the debate. This testifies how much the younger generation feels the problem and cares about it. The old guard tends to disregard their comments as naïve, however, they are far away from that. They perceive the problem as a burning issue that is depriving them of their future. They don't like the idea of living on a planet ridden by drought, without animals, or forests. How can we blame them? They are also able to think outside the box and link the macro-problem to everyday societal attitudes, broader socio-economical complexities, local realities, and community involvement. They see science, activism, research, media, and policy as entities that should collaborate and work together not to limit climate change, but to stop it as fast as possible. And the fact is (unimaginable for us), that they actually make it happen. They do not limit themselves to their field of endeavours. They participate in the debate from a global perspective. They speak about CO2 and sea level rise, but also about animal rights, poverty, migration, cultural disruption, and new economic models. Where we see limits, they see potential. Where we close the dialogue, they open doors. It should not come as a surprise that they feel extremely frustrated with the entire system. The "blah, blah, blah" of Greta Thunberg, mentioned by Ru Kermani (BBC) during the first high-level plenary (it would have been a mistake to ignore the most prominent fighter of climate change), in this optic is more than an expression of exasperation towards empty political statements. It sums up a system that is lost in its own empty words, and sees only difficulties, without connecting the dots and stepping up to action.
In the following essays from our GLOC SPECIAL, our contributors raised questions that were considered too uncomfortable to be pronounced during what was still a very disciplined and clean scientific conference: why did the majority of the political leaders not show up? Why did almost all the agencies' leaders show up for their intervention, and then disappear (missing the precious opportunity to listen to what the community had to say)? Why we are so focused on illegal deforestation and illegal fishing, while seemingly ignoring that the largest part of the problem comes from perfectly legal, environmentally disruptive activities? Why do we not highlight the need for everyone to change our habits and societal etiquette (possibly offering a good example)?
Stop the 'blah blah'
GLOC was an important and bold (for our industry at least) step in the right direction. As mentioned by Christophe Bosquillon in his GLOC essay, the involvement of the space scientific community in studying, monitoring, and understanding climate change and its effects was amply demonstrated. However, the Space sector did not convincingly prove it can help to fight climate change. It rather demonstrated that it is a shy supporting actor that has not cracked the code yet on how to provide concrete solutions to stop it. In particular, the dialogue with politicians and policymakers seems suspended still, and none of the parties involved seem interested in starting the conversation. The lack of political leaders at GLOC -with the only prominent exception of Espen Barth Eide, the Norwegian Minister for Climate and Environment– supports this analysis.
The way to step into this arena is by producing actionable outputs that can really tackle the causes of the problem and influence high-ranking policymakers. The way forward is undoubtedly a bottom-up approach and a radical role swap: we should allow the younger generation and global south to actively participate in the conversation. As pointed out by several essays in this collection, the lack of representation from the southern hemisphere and developing countries was evident. We should make room for listening rather than "blah blahing", and we should not shy away from uncomfortable truths and difficult decisions. We should also put our services and experiences at the service of the younger generation and developing countries, not the other way around. Only in this way, leading the dialogue between all the parts and providing actionable solutions, Space can move from passive observer to active solution creator.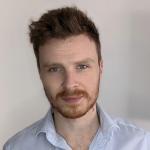 The climate crisis keeps me up most nights. It occupies my thoughts persistently, and induces profound concern with climate-related matters, leading to intense emotional distress, sadness, and anger. I oscillate between feelings of hopelessness and experience a diminished interest and enjoyment in activities unrelated to climate and animal rights advocacy. I have to actively manage panic and anxiety attacks, depressive episodes, and …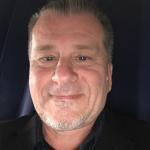 On May 23-25 2023, we attended (online) GLOC2023: The Global Space Conference on Climate Change 2023, organized under the patronage of the International Astronautical Federation (IAF) and its member the Norwegian Space Agency (NOSA).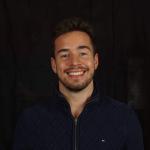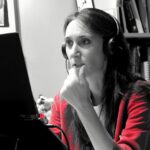 Dr. Emma Gatti is a planetary scientist and geologist with a PhD from the University of Cambridge and two post-docs from NASA's Jet Propulsion Laboratory and Caltech. After returning to Milan in 2018, Dr. Gatti transitioned into the field of Space Economy and Space Policy as a space analyst, leveraging her extensive background in space science to drive inclusion and communication awareness in these areas. In 2022, Dr. Gatti assumed the role of Editor in Chief, writer, and radio host for SpaceWatch.Global, a leading platform dedicated to exploring the latest trends in the Space sector.