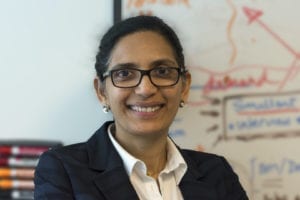 In this week's Space Cafè WebTalk, Dr. Bhavya Lal, Researcher at IDA Science and Technology Policy Institute talked about Chinas Commercial Space Sector. 
Dr. Bhavya Lal disussed key findings from a recent report she led on the emergence of the commercial space sector in China. The report used original documents, first-hand Chinese-language interviews with Chinese companies and China's industry experts, and visits to commercial space conferences in China to answer three key questions:
What factors are motivating the development of China's commercial space sector?
What are the sector's key characteristics, strengths, and weaknesses?
Where do we expect Chinese commercial space companies to be in the next 5-10 years?
She also answered relevant questions from the audience.
This Space Cafè WebTalk, held on 29 September 2020, was hosted by Torsten Kriening, publisher of SpaceWatch.Global. The Space Cafè WebTalk series is SpaceWatch.Global's innovative webinar platform featuring global space experts.
The complete video can be seen here: