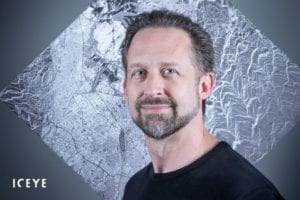 Luxembourg, 29 October 2020. – ICEYE, leader in satellite radar technology, appointed Jerry Welsh new CEO of ICEYE US, the company announced in Washington, DC. The company's headquarters are in Espoo, Finland.
At the same time, Eric Jensen is joining as President of ICEYE US.
Welsh joined ICEYE in 2017 as COO and CFO and oversaw the company's growth strategy and the recent completion of its $87 million financing round, the company said. He will lead a team focused on deploying capital to scale operations and serve the needs of U.S. customers.
"2020 has been an incredible year for ICEYE," Welsh said. "I am looking forward to broadening our footprint and deepening our impact in the US. Our next steps include expanding teams on East and West coasts, creating US production facilities, and developing a US satellite operations center. We will continue to champion the revolutionary value of SAR technologies to US government and commercial markets."
ICEYE has raised a total of $152 million in funding to date. The company launched two radar imaging satellites last month and is on track to launch additional satellites by the end of the year, it said. ICEYE is planning to deploy eight additional satellites in 2021, including spacecraft manufactured and launched in the United States.
The new ICEYE US President Eric Jensen worked for Boeing's satellite division before, leading the US government solutions segment. "With over a decade of experience in aerospace engineering, sales, and product strategy, Jensen will focus on delivering ICEYE's unique capabilities to US customers," the company said.