by Skye Boag, Marketing Manager at European Space Imaging
Since February 2011, there has been an arms embargo imposed by the United Nations Security Council on Libya concerning the supply of arms and military equipment to and from Libya. This embargo is repeatedly violated by countries funnelling not only goods but also military fighters to both the LNA and GNA in an ongoing conflict that continues to wreak havoc within the country.  These blatant violations dampens efforts to reach a peaceful ceasefire. To combat this serious issue, Libya and other conflict zones are being regularly monitored with satellites to provide a detailed picture of what is happening on the ground in near real-time.
These blatant violations dampen efforts to reach a peaceful ceasefire. To combat this serious issue, the EU responded with a targeted military operation intended to eradicate these violations and promote peace within Libya. EUNAVFOR MED Operation Sophia was part of a broader EU humanitarian relief effort to respond to migration issues in relation to human smuggling and trafficking and prevent further loss of lives at sea. This operation was replaced in early 2020 by a Common Security and Defence Policy military operation in the Mediterranean, Operation EUNAVFOR MED IRINI. Under this remit, the EU ministers agreed to deploy ships, planes and use satellites to stop the flow of weapons into Libya.
How Satellites Help?
Optical imagery from Very High Resolution satellites provides an accurate reflection of what is happening on the ground in near real-time. The power of the imagery lies in the detail and the satellites' ability to image large areas in a single pass without having to adhere to airspace restrictions. This is particularly important in conflict zones, and otherwise inaccessible areas, whereby entering the airspace proposes a risk to life. From high up in their orbit, the satellites can remotely monitor the situation on the ground, identify risk zones, verify damage extent from conflict and identify suspicious vehicle movements consistent with illegal activity.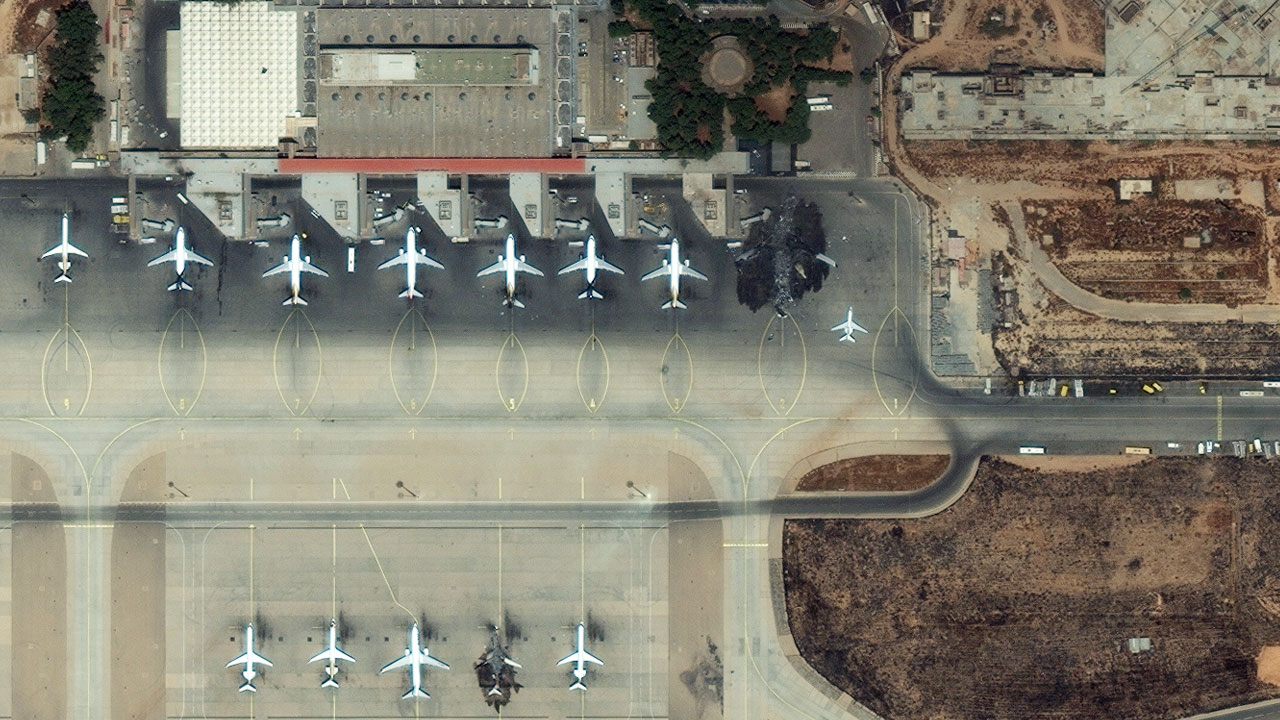 Why are 30 cm Very High Resolution Satellites Important?
Very High Resolution satellites image in a sub-meter spatial resolution; that is under one meter per pixel. The higher the spatial resolution, the greater the chance that an analyst will be able to identify smaller, more detailed features, such as the specific make and model of an aircraft. WorldView-3, part of the WorldView constellation, is considered to be the World's best satellite with a resolution of 30 cm and the only commercial satellite currently able to deliver imagery that is True 30 cm and not resampled data. This satellite, and other satellites part of the WorldView constellation, are being tasked by European Space Imaging on a weekly basis to image Libya and other conflict zones. The imagery is downloaded to their ground station at the German Aerospace Centre in near real-time to assist regulatory bodies in monitoring compliance with political agreements in place, such as the recent ceasefire agreement signed in Geneva earlier this month. The level of detail provided by this constellation is essential for conflict monitoring and provides vitally important information in regards to impending violence and embargo violations. In the event that specific vehicles (on land or at sea) are identified in illegal dealings, satellite imagery can assist in identifying ownership and thereby allow the mission to impose sanctions.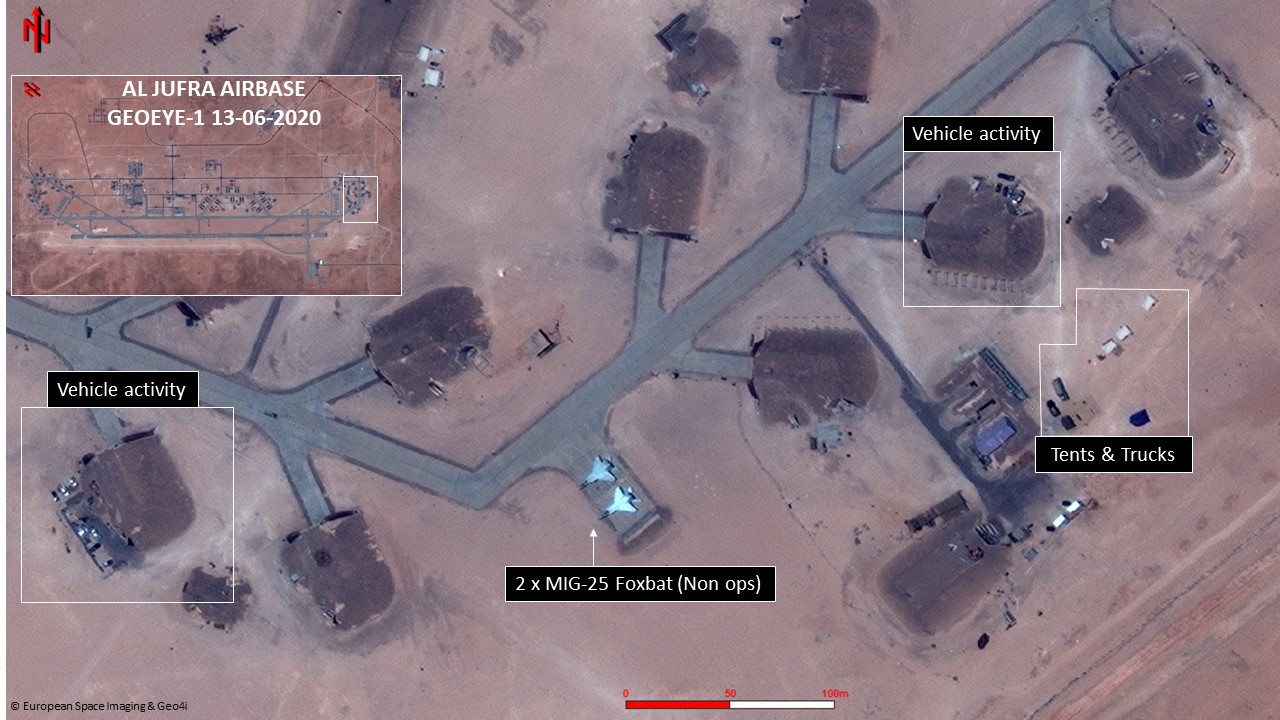 Monitoring the Ground
As mentioned, it is possible to identify and differentiate between vehicle types with Very High Resolution satellite imagery. Regularly monitoring airports in Libya can reveal the extent to which different conflict contributors (usually a country invested on either side of the fighting) are operating at the airport and in what capacity. Increased activity over time, as analysed through satellite imagery in comparison with historical data, can indicate a show of force suggesting that a near future conflict may soon occur within the area. It is particularly important to monitor Libya for any new infrastructure being built, such as new airports, fortified camps, military bases, sanitation facilities or roads that are currently not included on cartography maps. These assets can be indicative of movement of arms or military personnel and can provide geospatial intelligence (GEOINT) analysts with insight into where impending conflict may occur or highlight potential smuggling routes. Similarly monitoring cities for damage caused by conflict allows the UN and humanitarian relief operations to focus their efforts in areas that are most in need, particularly in regards to the safety of the citizens.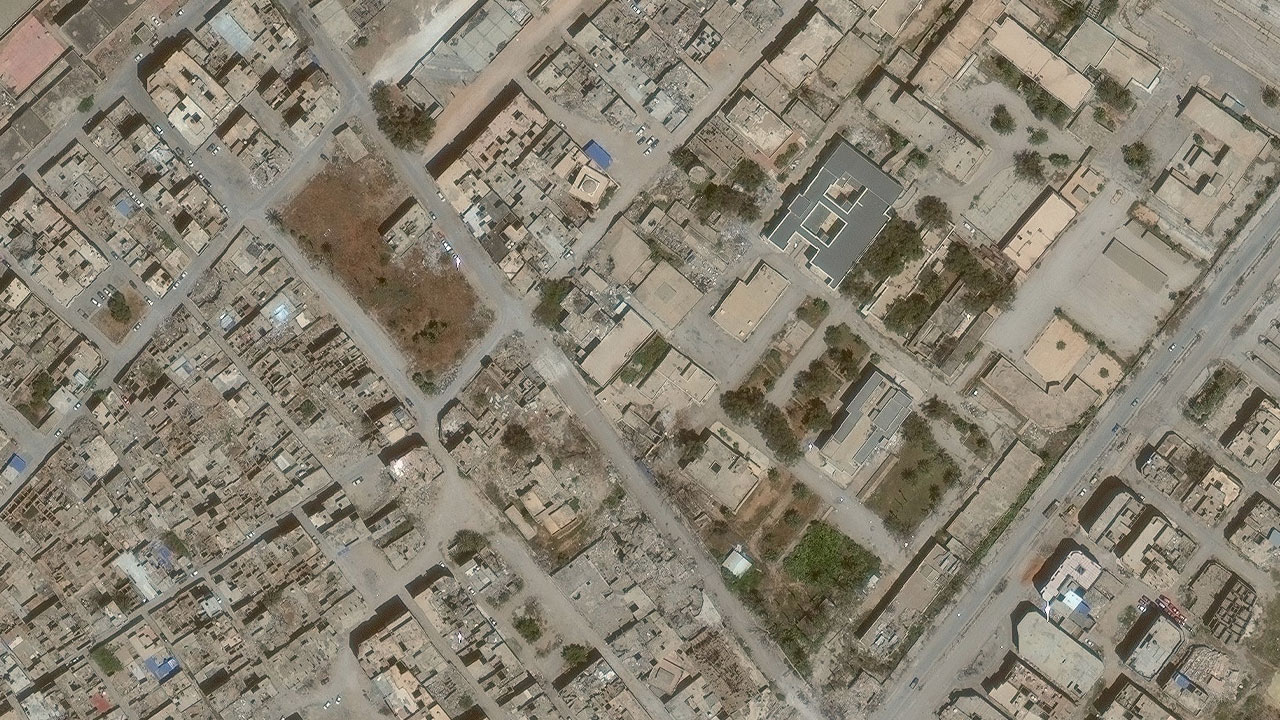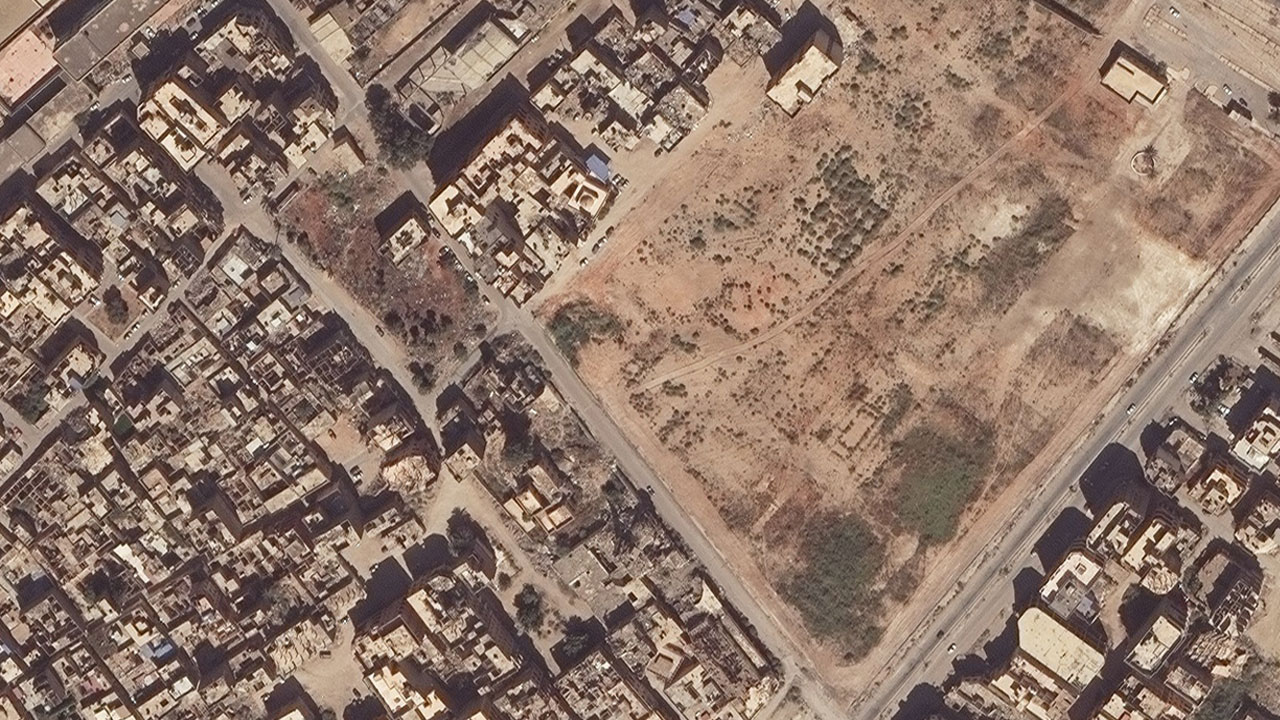 Finding Vessels at Sea 
The ocean is large and vast and therefore physically assessing it in its entirety is virtually impossible. Satellite imagery (both radar and optical) offers an efficient solution to this problem. Through the technique of tipping and cueing, it is possible to locate vessels at sea. This method involves the use of Synthetic-Aperture Radar (SAR) data which has been ingested into an AI program to automatically identify a specific geolocation of objects at sea so that a Very High Resolution (VHR) optical satellite image can be obtained. The VHR image then provides the level of detail needed to identify the object in the water, especially those purposefully travelling undetected without an Automatic Identification System (AIS) signal.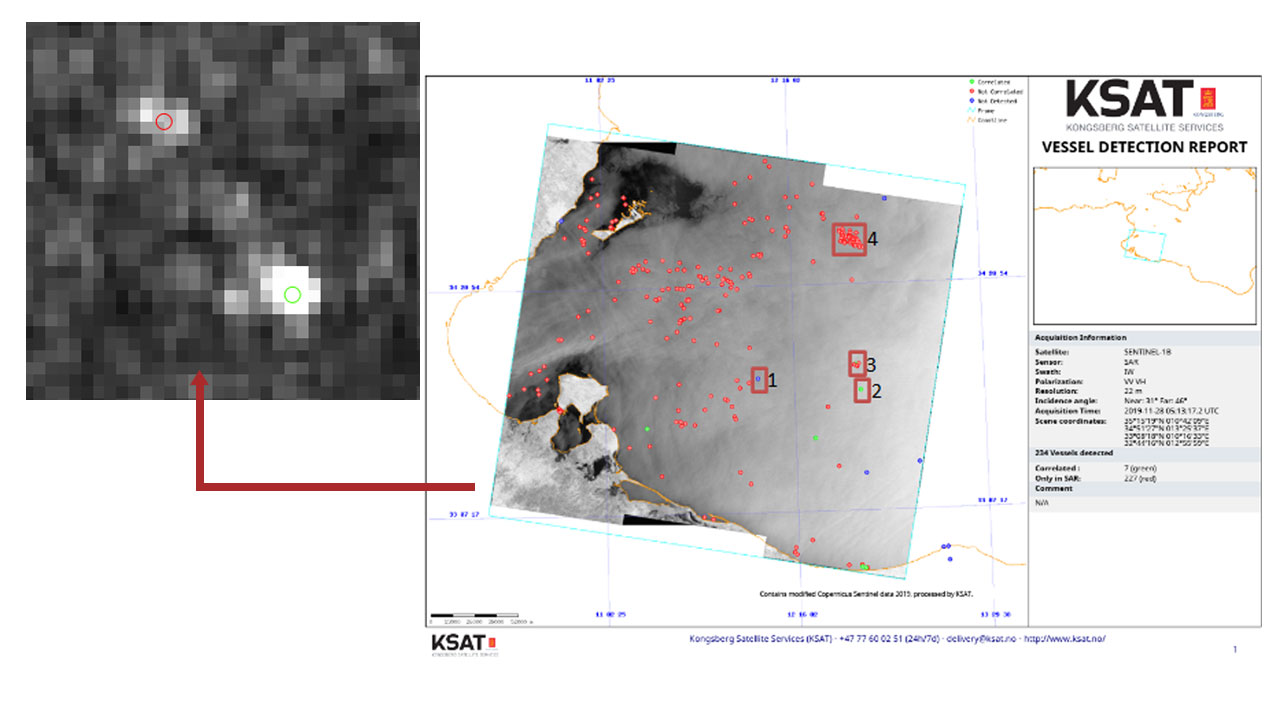 Protecting Borders
The external borders of the EU stretch far and wide. They traverse oceans, mountains, and rivers. However various monitoring methods by security personnel will always result in gaps; effective management requires the ability to observe and react to action at any geographical location. Satellites provide a solution to this visual problem by providing imagery of hot spots along the border where crossings peak. As the imagery is delivered in near real-time, it can go one step further and even prevent these crossings from occurring. A combination of satellite radar and imaging technologies aid the EU in monitoring the size and changes at refugee camps on the edge of the Mediterranean and near Europe's land borders. Thus, it is easier to predict future immigration attempts and, through preparation, save lives as well as prevent cross-border crime.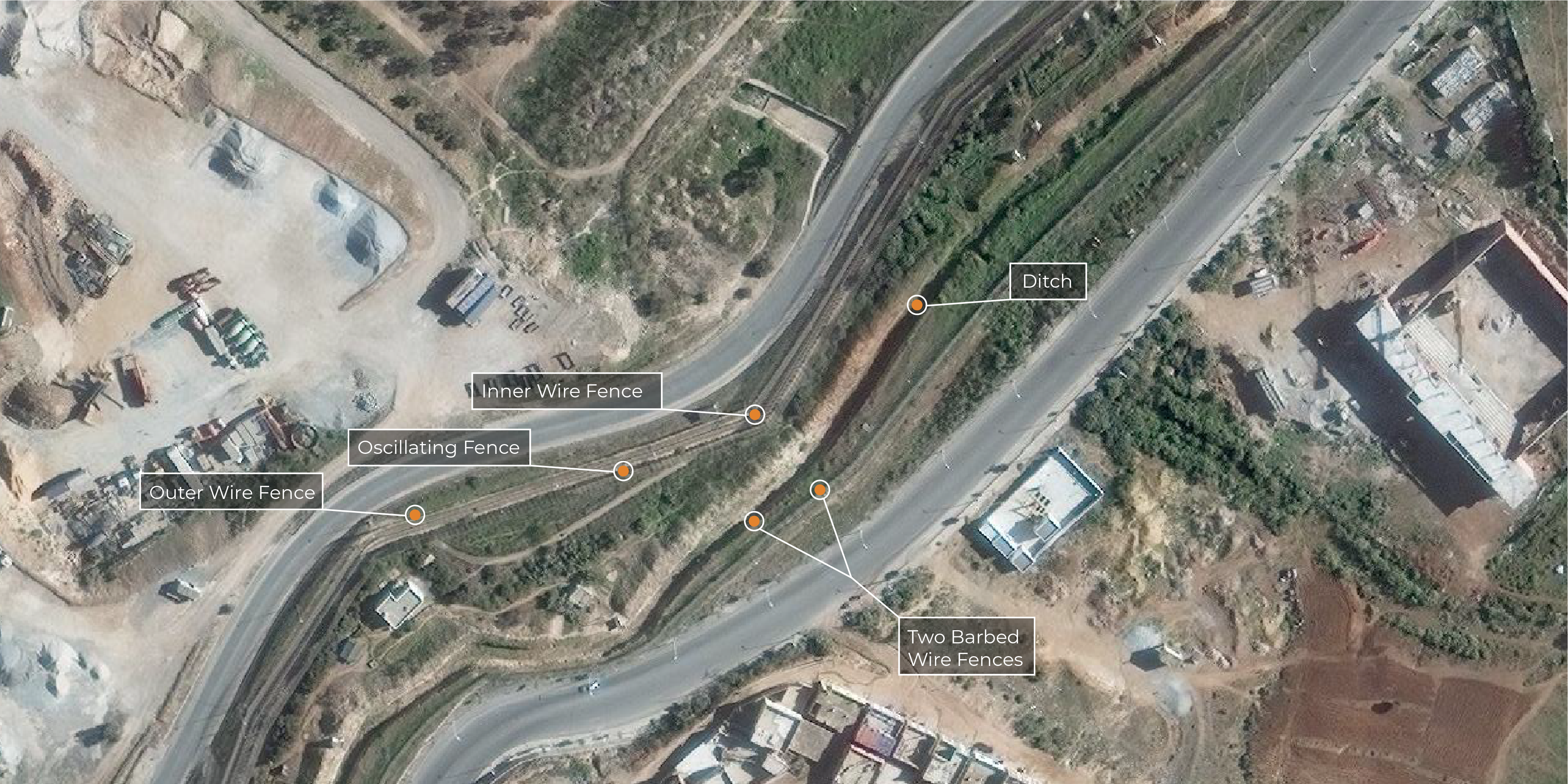 Conclusion
Very High Resolution satellite imagery is an effective tool to monitor borders to ensure no one enters the EU undetected, identify vessels and rescue lives at sea. It can help to predict conflict zones and map and fight cross border crime such as human trafficking or smuggling of arms to improve the internal security of the EU. It delivers imagery in near-real time to provide updated geographical information that may not be present on current cartography maps and thus conveys a more accurate picture of what is happening on the ground. Utilising the WorldView constellation with a resolution of 30 – 50 cm, European Space Imaging is collecting imagery over Libya on a daily basis each week (and has done so for many years now) to aid the EU in monitoring this conflict zone to allow quick reaction to mitigate violations of the UN arms embargo. Additionally, EU land and sea borders are being imaged weekly to fill any gaps in data from other traditional methods and to provide internal security and protection for all citizens.

Skye Boag is the Marketing Manager at European Space Imaging. Holding a degree in Marketing and Public Relations from Deakin University Australia, she has almost 10 years' experience within marketing and events across a wide range of industries. At European Space Imaging she directs the brand, events and communication strategies across the business.