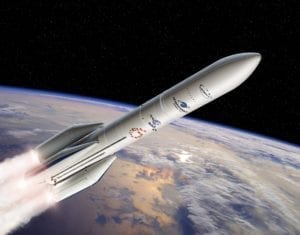 Luxembourg, 29 October 2020. – The European Space Agency (ESA), the French space agency CNES and ArianeGroup are now planning Ariane 6's maiden flight for the second quarter of 2022, ESA said.
The new schedule is "based on analysis of recent achievements, remaining critical milestones and the impact on the programme caused by the COVID-19 pandemic," ESA said. "The measures taken to control the pandemic have seriously impacted the progress of activities both in Europe and at Europe's Spaceport since March 2020."
ESA – which so far  spent 3.8 billion Euros for Ariane 6 and its launch site – will ask ESA Member States for at least an additional 230 million Euros, media reports said.
German Süddeutsche Zeitung quoted an ESA analysis last week according to which ArianeGroup sees the additional Covid cost at 200 million Euros, plus 100 million Euros at subcontractor level and 70 million Euros for the launch delay to 2022.
Following the successful qualification of all propulsion engines in early October, the finalization of the launch base in French Guiana and further testing of the launcher's elements, especially the upper stage, are underway, ESA said. The Ariane 6 upper stage static fire tests are planned to start in the second quarter of 2021. The handover of the Ariane 6 launch base is planned for the third quarter of 2021.
Vega-C's maiden flight is planned for June 2021, ESA also announced.