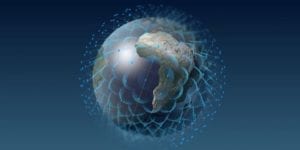 Luxembourg, 29 October 2020. – The U.S. Federal Communications Commission (FCC) has approved the transfer of licenses and market access to the newly restructured OneWeb company.
OneWeb – a United Kingdom-based company – emerged from Chapter 11 bankruptcy earlier this year with the UK Government and the Indian conglomerate Bharti as winning bidders and main new shareholders.
"Upon completion of the transaction, and in exchange for approximately $1 billion of equity commitments", Bharti and the UK Government "will each directly and individually hold approximately 42.2% of the voting equity", the FCC said in a Public Note this week, "and therefore indirectly and collectively hold approximately 85%".
SoftBank, an existing OneWeb shareholder, will hold 12.3% in the reorganized company, the FCC added.
OneWeb recently announced to resume operations and start commercial services next year, after the U.S. Bankruptcy Court for the Southern District of New York confirmed OneWeb's Chapter 11 reorganization plan in early October.