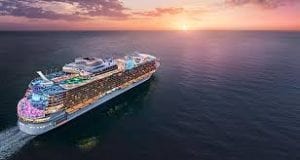 The global Coronavirus crisis has put the $150 billion cruise industry on the brink of a life-threatening situation, the Financial Times (FT) wrote in a special report on 2 September. "Instead of trying to top the record 30m passengers carried last year, the industry's more than 60 operators are having to tackle the fraught and costly question of what to do with the almost 350 ships that should be criss-crossing the globe," FT says. "… executives say the coronavirus crisis, which has left small congregations of ships moored off coastlines from the US to Indonesia, is far more life-threatening for the industry" than the 9/11 terrorist attacks in 2001.
With most of the industry still in shutdown, operators are trying to control and minimize the financial and operational burden of "vessels, which can cost anything between $500m and $1bn to build and typically have a lifespan of 40 years," FT says.
Cruise ship operators like Carnival or Royal Caribbean are important customers of the commercial satellite sector for sophisticated and tailor-made maritime satellite broadband systems, connecting thousands of passengers and vessel operators with fiber-like connectivity and high-speed internet.