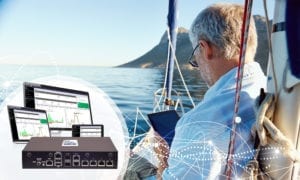 Dubai, 8 September 2020. – Demand for data traffic in the maritime leisure sector is increasing during the Covid-19 pandemic as crews, operators and passengers are asking for remote high-speed connectivity onboard vessels, the satcom specialist and satellite communication service provider IEC Telecom said.
"(Y)achts are becoming increasingly attractive remote offices for those able to attend to business matters while enjoying the open sea, sunshine and fresh air," IEC Telecom said. "During this challenging time, sailors have an increased need to stay connected for both personal and operational purposes as well as to avoid the need to go ashore as much as possible." 
"The leisure boat sector was initially hit hard by international lockdowns and is now incurring additional costs for deep cleaning, personal protective equipment, virus testing" and other items. IEC Telecom sees the need for cost optimization and for flexible onboard connectivity solutions as the main growth drivers in this segment.
"The signs are pointing to an upsurge in leisure boating," IEC Telecom concluded. "Yacht chartering is seen one of the safest ways to enjoy a break at present due to the minimal contact charterers have with other people. Yachts are considered to be more hygienic, given the ratio of crew to guests and the exclusivity of being on a private boat."
The international boat sharing Boat Affair platform "has seen a 23% increase in requests from customers who traditionally would opt for a hotel vacation or a seaside resort but are now seeking a safer alternative", IEC Telecom says. "And, according to a new survey by LuggageHero, 25% of travellers report they will try to avoid crowded commercial flights and public transportation in a post-coronavirus world."