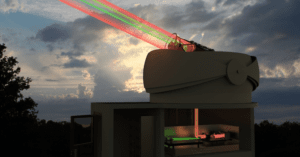 TNO signed a contract with ESA to demonstrate cutting-edge optical communication technologies for future terabit-speed telecom satellites. The TOmCAT project (Terabit Optical Communication Adaptive Terminal) will enable high-throughput laser communication between ground stations and satellites.
This project is Phase 2 of TOmCAT, which started in 2017. It brings together key players in the space and tech industries, including TNO, Airbus Defence & Space Netherlands, FSO Instruments (consortium partner Demcon), Hittech Multin (NL), Celestia-STS (NL), MPB Communications (CA), Airbus DS SAS (FR) and Eutelsat (FR), and SES (LU).
TOmCAT is a co-funded activity in which TNO, the companies involved, the Canadian Space Agency and the Netherlands Space Office invest through the ESAs ARTES Strategic Program Line ScyLight. Key technologies include high-bandwidth adaptive optics, thermally stable opto-mechanics, high-power photonics, and high-throughput optical transceivers.
TNO Space aims to enable secure broadband connectivity that will support the growing demand for data and increase communication efficiency, and also help stimulate economic growth in the Netherlands and Europe by enabling companies to realize new products and business as well as improve their competitive position.
TNO brings parties together and integrates expertise to:
1) Design an end-to-end Optical Feeder Link for high-throughput satellites.
2) Build and test cutting-edge technologies for future Terabit Optical Ground Stations.
3) Build an end-to-end Optical Ground Terminal demonstrator, and test it in a 10 km ground-to-ground link.
TNO considers development in the TOmCAT project to be a major step towards the realization of commercial Optical Ground Terminals and Optical Ground Stations for high-throughput Optical Feeder Links. TNO will work in the coming period, in parallel with TOmCAT phase 2, with Airbus Defence & Space Netherlands on business development, and position Airbus DS NL as a future Original Equipment Manufacturer (OEMer) of these Optical Ground Terminals and Optical Ground Stations.
TOmCAT is a technology development project with the end goal of developing a commercial optical ground station with high-data-rate laser links ton communicate with the next generation of Very High Throughput Satellites. One of the innovative elements of TOmCAT is its ability to pre-correct the laser light with adaptive optics.
When light moves between the surface of the Earth and space, it gets distorted due to the fluctuations in the atmosphere. TOmCAT measures the distortion of the received laser light from the satellite, and by applying the inverse of this distortion to the transmitted light, a robust communication link can be established. In order to enable this, high speed adaptive optics is required. An important objective for the project is to build a demonstrator to test and prove this concept.
For more information visit www.tno.nl