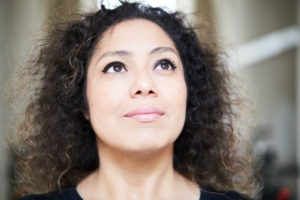 In this week's Space Cafe Web Talk, Yvette Gonzalez shared her thoughts about the International Institute of Astronautical Sciences (IIAS) Project PoSSUM (Polar Suborbital Science in the Upper Mesosphere) program, future of Citizen Science research application and deployment, engaging unexpected multidisciplinary experts, and ultimately how it enables diversity and inclusion for space exploration.
Given a huge interest from the audience in the Project PoSSUM program, here is the link to the question, "How do I apply?":
https://astronauticsinstitute.org/programs/astronautics/. You can apply for either the Advanced PoSSUM Academy for Undergraduate and General Education Candidates or the PoSSUM Scientist-Astronaut Qualification Program for Graduates and STEM Professionals.
She also answered relevant questions from the audience.
Yvette Gonzalez is Director of Outreach for the International Institute of Astronautical Sciences & Project PoSSUM
This Space Cafe Web Talk, held on 9 June 2020, was hosted by Torsten Kriening, co-publisher of SpaceWatch.Global and COO of ThorGroup GmbH. The Space Café WebTalks series is SpaceWatch.Global's innovative webinar platform featuring global space experts.
Want to know more? Her background slides are available at 200609_SpaceCafeWT_YvetteGonzalez
The complete video can be seen here: