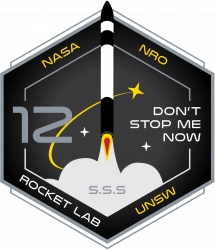 Rocket Lab released the following update on 9 June 2020:
The countdown is on for Rocket Lab's 12th Electron launch, the 'Don't Stop Me Now' mission from Launch Complex 1.
This mission was originally slated to launch in late March but was postponed due to the COVID-19 situation. (Perhaps we tempted fate with the mission name.) It's great to be back on the pad.
The mission will lift payloads for the National Aeronautics and Space Administration (NASA), the National Reconnaissance Office (NRO) and the University of New South Wales (UNSW) Canberra Space.
Launch Window:
Rocket Lab is currently targeting no earlier than 04:43, 11 June UTC for lift-off.
Time zones:
UTC: 11 June (04:43 – 06:32)
NZT: 11 June (16:43 – 18:32)
ET: 11 June (00:43 – 02:32)
PT: 10 June (21:43 – 23:32)
We have backup opportunities available through June 24th.
Please keep an eye on @RocketLab on Twitter for updates throughout the launch window.