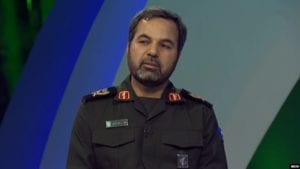 Iran is planning to develop and launch a satellite into geostationary orbit (GEO) – at an altitude of 36,000 kilometres – for the economic benefit of the country, according to Brigadier Ali Jafarabadi, the commander of the Islamic Revolutionary Guard Corps' (IRGC) Space Command.
Speaking with Iranian news outlet Negar on 10 May 2020, Brigadier Jafarzadeh noted that GEO is a strategically important orbit and is ideal for telecommunications and satellite broadcasting satellites. Jafarabadi also added that placing an Iranian communications satellite in GEO could be commercially profitable for Iran and would consolidate Iran's position as a space power.
"Designing, building and assembling the system is very complicated. From the moment of launch to the moment of satellite injection, at least 10 major mechanical, chemical and electronic mechanisms occurs, which makes the process very complex," Brigadier Jafarabadi told Negar, acknowledging the scale of the technical task.
The comments by the commander of the IRGC Space Command are not the first time that Iran has stated its desire to have sophisticated communications and satellite broadcasting satellites in GEO.
Ever since the 1970s when Iran was a monarchy there have been plans to put communication satellite in GEO. Those satellite plans, called Zohreh, survived the fall of the Shah in 1979 and have been repeatedly touted by the Islamic regime in Tehran ever since, but nothing tangible has emerged to date.
In 2005 there were reports that Iran had contracted with Russian satellite manufacturer ISS Reshetnev to build at least one communications satellite based on the Ekspress-1000A to be placed by a Russian launch vehicle into GEO, but apparently this deal fell through.
More recently in 2016, it was reported that the French ambassador to Iran had proposed that the European commercial satellite communications company Eutelsat might host a communications payload for Iran on one of its satellites in GEO.
Even if Iranian engineers were able to build a GEO communications satellite under the constraints of international sanctions and Iran's tough economic conditions, Iran does not possess a launch vehicle powerful enough to launch such a capability to a 36,000km orbit.
Instead, an Iranian GEO satellite would have to be launched by a foreign launch provider – presumably from China or Russia – in defiance of international sanctions and at considerable cost to Iran.
In his Negar interview, Brigadier Jafarabadi also highlighted the young age of his satellite engineers. "90% of these guys are under the age of 30, and all the specialists who have a direct role in the project have studied at Iranian universities," Jafarabadi said.