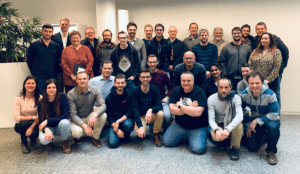 Astrocast has announced key investments to strengthen the deployment of its advanced and sustainable satellite IoT network. The support validates the market acceptance and the startup's strong path forward.
In the last few months, Astrocast announced a strategic investment made by Marine Instruments, one of the largest bidirectional satellite IoT customers in the market today. The company has also made big strides forward in the development of its L-Band low-power ASIC towards mass production and signed a new launch contract with Spaceflight ensuring the deployment on time of their satellites.
In parallel to all of this, Astrocast also secured additional investments from notable private investors with experience from the IoT and cellular industries. Among them, they have the great pleasure to count a renowned software expert in network performance management, who co-founded InfoVista. They are also honored to welcome a world-class hardware expert, Mr. André Jolivet, founder of Wavecom. His impressive expertise ranges from the development of RF ASICs, modules to complete M2M and IoT solutions.
"This is a great validation of Astrocast's development strategy, and we are very pleased with this strong support. Our seamless and consistent technological approach is paying off. The best way to ensure future success is by securing credible investments and showing strong market traction through a customer focused technology and service." said Fabien Jordan, Astrocast's CEO.
This announcement was made on 30 April 2020.