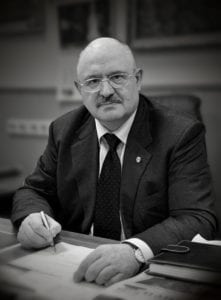 Yevgeny Mikrin, the head of Russia's human spaceflight program, has died, the country's space agency Roscosmos announced on 5 May 2020. The statement did not specify a cause of death, but a report in Space.com indicates Mikrin had tested positive for Covid-19 last month.
Roscosmos confirmed his death in an official English language statement, as follows:
Energia Designer General Tevgeny Mikrin passes away.
With great sadness, Roscosmos announces the passing of Yevgeny Mikrin, Rocket and Space Corporation Energia Designer General – First Deputy Director General, Member of the Russian Academy of Sciences, Professor, Doctor of Technical Sciences, Soviet and Russian scientist in mechanics and control processes. Yevgeny Mikrin was 65.
His passing is an irreparable loss for Russia's rocket and space industry, as well as the country's science.
Yevgeny Mikrin was an outstanding scientist, designer and organizer who immensely contributed into developing the crewed and cargo spacecraft control system development, multimodule space complexes, automatic spacecraft of various purposes. Since 1981 he has worked for Energia.
Roscosmos Director General Dmitry Rogozin: 'I was truly hurt by the news of Yevgeny Anatolievich Mikrin's passing. We lost Designer General, a comrade, a friend. The best doctors fought for his life for several weeks, all the possible means and methods were used, but unfortunately the illness gained the upper hand. In this black moment I express my sincere condolences to Yevgeny Mikrin's family. This comes as a grievous loss for us all – his friends, comrades and colleagues working with him shoulder to shoulder. He will remain in our memory forever.'