By Guy Thomas
This conference was groundbreaking in one important area: it acknowledged the increased significance of space to the understanding of maritime reconnaissance and surveillance technology.
At the same conference five years ago, there were only two briefs which focused on the utility of space for these sectors. Each of the last three conferences have included more space content than the previous; and, at this one, over half the presenters discussed the subject and most of them focused on it.
Brigadier General Carlos de Salas, Head of Command, Control, Communications, Computers, Intelligence, Surveillance, and Reconnaissance (C4ISR) & Space for the Spanish Ministry of Defence, gave an excellent brief on how space systems play a significant part in the improvement of Spain's maritime domain awareness (MDA). de Salas cited upgrades in the collection of Automatic Identification System (AIS) from space (S-AIS) as a major benefit. Spain is looking at several new space intelligence, surveillance, and reconnaissance (ISR) programs. He also noted that they are working toward better international interoperability, as a consortium is needed to get the best return out of these new systems.
The next presentation was from our hosts, the Italian Navy. Capt. Cianni briefed the audience on how they had developed a series of tools to allow them to cooperate with multiple Navies in the Mediterranean, as well as Brazil, in maintaining Maritime Domain Awareness (MDA). His description of the challenges and how they had been overcome was first-rate; he laid out the problems and how they were being met using space systems as well as dynamic data fusion and analysis tools.
Commodore Thomas Guy, Deputy Director of NATO's Combined Joint Operations from the Sea Center of Excellence, next described that NATO is leading a global effort to examine how new technologies are changing naval warfare. He described how space, robotics, and AIS were being looked at to define future requirements. He also stressed the importance of both collaboration and the need for ISR interoperability across NATO and beyond.
Commander Jukka Holfstroem, Finnish Navy Deputy Head of Operations at EUCAP, Somalia, described both the importance, strategically and economically, of the Horn of Africa, and how the European Union is maintaining MDA with a mix of tools. He highlighted how space-based ISR was critical to their success, and that they are looking at newer and better systems.
Mark Carmichael, Director of Sales for Radar Solutions,  MAXAR Technologies, gave an update on the wide range of space sensors they bring to maritime situational awareness, highlighting their focus on sense-making of the images gathered from both synthetic aperture radar and optical sensors, combined with information from a wide range of other maritime data sources into a dynamic data analysis tool.
Mr Barak Solomin, VP of Business Development for ImageSat International, provided a look into how their company does MDA, focusing on predictive analysis and the location and identification of ships that have turned off their AIS in order to evade detection.
Capt. Capt. Juha Matti Torkkeli, Assistant Chief of Staff, CJ2, EUNAVFORMED, described EUNAVFOR's approach to detecting illegal immigration and "other illegal activities" under Operation Sophia. They are using a wide range of sensors, including space-based ones, and they are actively looking at employing more.
Omer Primor, Windward, gave an in-depth description of how they are using S-AIS coupled with shipping industry data to define and analyze patterns-of-life at sea to identify law breakers and threats at the earliest moment.
Lieutenant Commander Stefan Lundquist, PhD, Swedish Defense University, presented a discussion on multi-domain operations in the Arctic. He stressed the need for internationally coordinated manned ISR and space operations to respond to growing tensions.
Ms Helena Ramon Jarraud, Head of Maritime Surveillance at the European Maritime Safety Agency, explained how safety at sea was being strengthened by increased monitoring of the maritime domain using space systems and data exchange with its many partners, including FRONTEX.
Lieutenant Commander Kathryn Ransom, USN, Program Officer NATO STO, Center for Maritime Research and Experimentation, explained the work being done to develop sophisticated multi-source data fusion tools to build a better maritime picture to assist coherent assessment. She also stressed the need for collaboration and data sharing of all NATO ISR assets, including space.
Dr. Nikolaos Spyropoulos of World View Enterprises gave the most unusual brief.  It was on the Stratollite, a steerable, very high altitude balloon operating in Near Space (from 65K ft to 100K+ ft) which can operate with a range of sensors. It will be interesting to see how this system is accepted and used.
I was the last briefer, summarizing all that had gone before regarding the need for collaboration in space for international global maritime awareness. I ended by focusing on the synergism of S-AIS, SARsats and the new radio frequency (RF) geolocation satellites, coupled with the Internet of Things (IoT) and Artificial Intelligence (AI).
Other presentations focused on airborne systems, including drones, and the utility of AI tools. But the major theme was the utility of space for maritime operations of all types, and that was unique.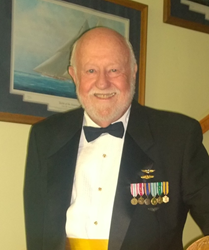 Guy Thomas is Contributing Editor for Maritime and Military Affairs at SpaceWatch Global.