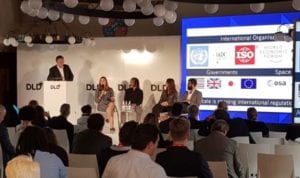 The space panel, titled "Space: The Next Tragedy of the Commons," focused on raising awareness about the problem of space debris. Panelists included Dr. Moriba Jah from the University of Texas,  Dr. Regina Peldszus form DLR, Harriet Brettle from Astroscale, and Daniel Porras from UNIDIR. Torsten Kriening, COO of SpaceWatch.Global, moderated the session.
The panel concluded with a clear call to action: We must do something to clean up space now–before it's too late.
A video of the session is available below. Stay tuned for a deep dive into this topic, including a discussion with the panel audience, coming soon on SpaceWatch.Global.